Debbie does...round the world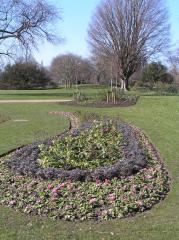 16th Feb 2010 - 7th Mar 2010 - London
Spring is starting....
I didnt realise it was 3 weeks since I last updated - thought it was only two.
Anyway I am still alive as you can gather. Have had another move of accommodation. Last weekend moved back to the myOE guesthouse in Hammersmith where I stayed when I first hit London in January 2009. This will be until the 20 March when I finally move into the long awaited apartment with my friends Andrew and Nancy. Things got a bit too much for me staying with my other friends and with a combination of not wanting to go home each night and being too busy at work abd crying on the phone to Tim after his car accident I might add I decided enough was enough and moved out even though I was told I was more than welcome to stay until the 20 March. All I can say is dont treat me like crap if you want me to stay. Turns out her anger was misplaced on me but I had enough and have felt much happier since moving last weekend. Longer to work and double the price but worth it.
Havent done much - I am working extremely hard 0830 to 1800 most days - I get time in lieu this time so it is an incentive. They want me to stay on but I will do another few months and then look for something in the mental health line. In one SW position they have had 4 social workers in 3 months. One just didnt come back last Monday and didnt even tell anyone. He had appointments booked and everything. I had Safeguarding Investigators training in Thursday and Friday which I enjoyed and have another day of training next week. The one thing I can say in favour of this borough is they do allow their locum workers to attend training which others wont. Thats probably enough to say about work as I like my colleagues but not the actual work.
We have had a reasonably good week weather wise here - 4 out of 7 days have seen some sun although still cold. The daffodils are so nearly out and other flowers are just starting to break through. I went to Hyde Park today for a long walk and then sat in the sun (with a bitterly cold wind) and finished reading my book for some hours. Yesterday loitered around Westfields shopping mall and watched crap TV.
Last weekend I moved on Saturday - took all day. That bathroom has never been so clean. On the Sunday Nancy Andrew and I took the train into Kent to the Bluewater Shopping Mall - took me about 2 hours to get there. I was supposed to meet them on the train platform at Lewisham but they missed the first train so I stood on the platform in the rain for another 40 mins. There is nothing at Lewisham but to stand there. We went to this enormous shopping mall - I actually liked it. Had lunch at TGI Fridays - an amazing cocktail with Baileys, Kahlua, vodka and icecream. Then we shopped for one hour and then went to the movies to see The Wolfman - I didnt know what it was about and it wasnt my thing but it was warm in there. We also went on this 10 minute 3D ride thing which was great - the nieces and nephews would have loved it.
The previous weekend I had a cough and mild flu and took myself out each day as I was obviously in the way at my friend's place. Spent a lot of time in Starbucks and it was on the Sunday night I decided to get out. Tim had a major car accident which didnt help the weekend - have no idea how he survived. He was going 100kms along the Moutere Highway in nelsona nd a car came out of the driveway and he went smack into it. The other driver wasnt that hurt either. They were both incredibly lucky. My sister's car that Tim was driving (my old car) was totalled - thank goodness for insurance. Tim had a bit of whiplash but is fine now.
So all is much better in my world and roll on the next week.
Diary Photos
---