Debbie does...round the world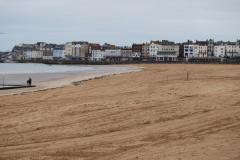 8th Mar 2010 - 28th Mar 2010 - London
A big update
Apologies again for the length of time between updates – this time due to lack on wi fi internet.
I know I had told you I recently shifted to the myOE guesthouse and I had 3 weeks there. It was great being back in my old room – nothing had changed. Everything was exactly the same. I still like the area of Hammersmith but could not afford to live there by myself. It was relatively easy to get to work from there – one bus for 30-40 mins, another bus for 10 mins and then the 15-20 min walk. The biggest holdup each day was waiting for the buses particularly finishing work late and they seem to go only every 10-20 mins. Fortunately spring is happening and its getting warmer.

I did a work trip to Margate on the south east coast several weeks ago. I gave up a weekend trip to Paris with Andrew and Nancy as because she can get cheaper tickets I have to travel with them so I wasn't going to be back in time. I therefore thought I would stay overnight in Margate being a seaside town with a beach of reputation. However to be blunt, it was a dump. I have promised myself a trip back in summer to see if I am misleading people by saying this as I am happy to be wrong. The best thing going for it was that it had a McDonalds. I stayed at a premier Inn (chain of hotels) next to the train station. Had a lovely dinner at Brewers Fayre attached to the hotel which the Great Aunties and Uncles in Frinton had taken to me before when I stayed with them and I thought fondly of them when eating the 'smothered chicken'. Spent the rest of the evening in my room and started 'The Girl with the Dragon Tattoo' which I enjoyed. The next morning was up at 0900 solely to get my free breakfast and then messed around. Checked out and decided to go for a walk along the beach and the seaside. Weather wasn't fantastic – a dull white sky and I found it near impossible to take any photographs as it just wasn't that picturesque or interesting. A shame really as I had taken the big camera along. I thought so little of the place that by 1300 I had enough of it and caught an earlier train back to London.

The following day I finally went to church. I had heard from someone in NZ about the place where their daughter went so decided I would try there. A place called All Souls right near Oxford Circus. It is an modern Anglican I guess you would call it. They have two services 0930 and 1130 so I went to the 1130 service – difficult to know how many people but it was completely full – mybe 700-900. Pretty standard service compared to what I am used to and no traditional Anglican stuff which I was relieved about. A good interesting sermon which always helps. The following Tuesday I went to an open night which they have once a month for new people to tell them a bit more about the church and to show people around. There was only 6 of us attending with cakes and biscuits for about 50. The previous month they had 30 people. I didn't really get the questions answered that I wanted but there is time for that. John Stott whose books I have read used to be the head Pastor there. The people sounded nice. They talked about home groups etc and what programmes they run. There is something called Springboard which is a year long programme which I may start going along to after Easter. About 1-150 people go – listen to a video or talk for 30 mins and then break up into the same small groups for an hour to discuss what you have heard. I'll go along for a month and see anyway.
Last weekend the BIG MOVE happened. All plain sailing on the day – I packed my bags (once again) and got a taxi from Hammersmith to Limehouse – cost 30 pounds which was reasonable for the distance. I still have two huge boxes at Liz and Scott's. Arrived just as the agent and Andrew and Nancy did. The place is wonderful. Light and airy and nicer than I remember. Spent the afternoon unpacking and shifting bedroom furniture around and feeling rather happy.

Late in the afternoon we took a bus (2mins down the road) to Asda (big supermarket chain) – about 20 mins but will only be 10 mins in future on the DLR (Docklands Light Rail) which is kinda part of the underground system but its mostly above ground. Spent ages in Asda – though I was finished and Nancy was only half way around. I brought a mattress protector otherwise I would be sleeping on top of the mattress that night with a duvet inner over me. It was lovely to unpack groceries into a normal size fridge and freezer. The only thing wrong with our kitchen is the lack of storage space for food so we may have to buy another freestanding large storage unit. The problem is that the dishwasher and washing machine take up 2 large cupboard spaces.
Had Thai for dinner from the place down the road – extremely good and will definitely go back. I even ate duck. I know but if I have to choose between duck and pork its an easy choice.

On the Sunday I slept in a bit and got up and watched some cricket. About 12 Andrew and Nancy got up and we decided to go to Ikea to get some stuff like bedding and bathroom stuff. Unfortunately after searching on the internet the nearest one was Croyden which took us about 1 hr 45 mins to get to. We had the yummy meatballs and chips that they sell there and set off in pursuit of hat we needed. I started with Andrew and Nancy but gave up fairly quickly as one of Nancy's endearing features is her ability to shop and desire to look at absolutely everything for a very long time. I quickly found a small freestanding mirror for my bedroom which was 9 pounds. I only brought a bottom sheet as knew I had others coming. They had about 50 different duvet covers but none I actually liked apart from one which they didn't have in my size of course. I cant remember if I have one in the box from NZ or not. Brought a hand towel and bathmat as well. We then finished about 5pm so didn't get home until after 1830.

This last week at work has been awlful really – so much to do and then to top it off in Thursday 2 safeguarding cases as well as an email directing me to get my supervisee's caseloads up to 20 in an attempt to cull the waiting list – doesn't matter that they are at breaking point and are newly qualified as well. Stayed at work until 7pm twice in the week. Friday was better as went to South Yorkshire for the day to do a review of someone. Still had to leave home at 0730 to get to St Pancreas Domestic and then two trains and a taxi to where I needed to go. There by 1230 and left at 1530 and back in London by 1830 and home by 1930.
Apart from coming home to a lovely apartment each night there was one lovely thing I did during the week. There is a theatre company in Wimbledon called Baked Bean who work with people with learning disabilities of all ages and severity and they put on productions several times a year. I missed out on the last one but really wanted to go to this one called 'There's something about Freddy'. About 6 people from work went with me – went to dinner first at Gourmet Burger Kitchen – had the best hot chips I have had since being in England. Then went to the performance which was brilliant – full house although only sits about 50-60 people. The cast was amazing – these are people that you would never think would get up on stage, remember lines etc but they were wonderful. There was one lady who could only shout, another who did nothing but stand there, the 3 main characters danced and sang and were great. It made me remember that it doesn't matter what disabilities people have that they can have a great quality of life if they are allowed and they can get funding to do so. Had another rather large glass of NZ wine at a bar afterwards and felt rather good and managed to get myself home in one piece which took about an hour.
Wednesday we went to the movies to see Shutter Island which was also very good and urge people to go and see it as has an interesting background commentary on mental health.

Yesterday being Saturday I went to a training put on by my agency on Personalization and personal budgets which is the new big thing here. It was free so thought I would go to get my training hours up – to continue my registration here as a social worker I have to do 60 hours every 3 years. Anyway it was supposed to start at 0930 and eventually started at 1015 – covered what I already knew. Had the usual people who spoke too much about nothing or were very negative. Lunch was an hour and we were only back for 45 mins before it finished for the day. A waste of time really especially on a Saturday. Decided to use the early finish to go grocery shopping at Waitrose at Canary Wharf – on the DLR for about 5 mins to get home. Started pouring with rain but fortunately we are about 1min walk from the entrance of the DLR. Spent the evening watching stupid TV and went to bed.
Today we have finished signing off the inventory for the apartment, cleaned the bathroom, did some washing, doing the blog in Word and will upload it if the dongle we have ever works, watched a bit of the Aussie Formula one and then will do not a lot for the rest of the day as cant be bothered making my way to Liz and Scott's to pick up my boxes.
Easter next week – Belgium for the weekend.
Happy 11th birthday to David on 04 April.

My address is
Flat 11 Zenith Building
590 Commercial Road
London E14 7JR
Diary Photos
---
---