Debbie does...round the world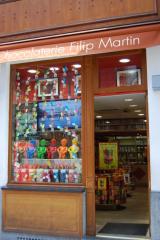 2nd Apr 2010 - Belgium
Brussels and then onto Bruges
Up at 0900 and packed our bags and left them at the hotel for the day. Wandered into Brussels city centre. Belgium is famous for chocolate, beer, mussels, frites (fries) and lace – 2 out of 5 for me, 4 out of 5 for Andrew and 5 out of 5 for Nancy. There were beer and chocolate shops everywhere. The chocolate is quality stuff and quality prices. Brought some chocolate for those back home although by the time you get it Easter will be a distant memory. It's the thought that counts. They speak mainly French in Brussels and Dutch in the other parts of Belgium. Its amazing how my French comes back to me after so many years.
Visited the Grote Markt – Grand Place which is the central square – fabulous buildings all over 300 years old. The Hotel de Ville is the town hall and had its beginnings in the 15th century. There is a statue lying down of Everard 't Serclaes who died on the very spot in 1388 resisting Flemish occupation so everyone has to have photos stroking his bronzed body for good luck (not me). We found the small statue of the Manneken Pis – the small boy is is 'pissing' – he is on postcards, keyrings, teeshirts etc.Then wandered further and found a place for lunch that had been recommended – savoury crepes – I had spinach, bacon and mushroom and cheese in mine – very good. Then looked in the Eglise Notre Dame de la Chapelle where Pieter Brueghel the Elder is buried. I think he was an artist but cant be sure. We wonder if we are 'catheldrelled out' if there is such words in existence. We decided by mid afternoon that we were not really interested in seeing all the museums that Brussels had to offer. I think we are all really tired from working so hard in London. Any way we decided to make our way to Brugges where we were staying for the next 3 nights.
Walked back to the hotel and then walked to the station and caught our train – about an hour. We then taxied again to Hotel Cordoeanier in central Brugge. I could tell immediately (bit like Prague) that I would just absolutely love this place. A large old centre radiating out, clean, interesting buildings and small canals – just beautiful. The hotel was lovely – I was on the third floor (no lift) and narrow steep stairs but the room was fine – 210 euros for three nights for me, double was 280 euros. Found it hard to get cheap accommodation here but we were 2 minutes walk to central square so a fantastic location.
Diary Photos
---