Debbie does...round the world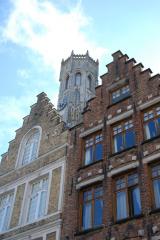 3rd Apr 2010 - Belgium
Bruges
Started the day by getting up at 0850 so we could be down to breakfast for 0915 – the agreed time. The breakfast was included in the hotel and is in what I call the Roses room (see yesterdays photos). Eggs, bacon, breads and cereal, ham, cheese, yoghurt and one type of fruit plus juice and hot drinks – simple but very nice and everything was fresh including the baguettes which you had to wait for as they were in the oven. Andrew and Nancy finally came so I sat and waited whilst they had breakfast. We left the hotel about 1030 planning to wander around Bruges – had a few things we definitely wanted to see and do.

Your history lesson for today – in the Middle Ages Bruges (Brugge in Dutch) was a prosperous city in Europe trading in silk, fur Asian carpets, wine, fruits and exotic pets which were all traded on the sides of the canals. For some reason it fell from grace about 1500 and stayed this was for 400 years. It remained a small medieval city, its poverty alleviated by almshouses, 'pious' institutions and a small industry supplying lace to Europe. People realized in the late 19th century that it was a historical gem and its revival has grown and grown and as well as the historical city centre has internationally renowned collections of art.

I need to probably mention the weather as I won't mention it again. The majority of the time it was that dull white sky I so hate (makes photos look washed out), threatening to rain or raining. There were the occassional patches of blue sky. The temperature was average for spring – most of the time had jackets on but occasionally had them off.
Anyway we started off in the markt which was getting ready for a huge cycle race the following day – the start of the Tour du Flanders (I think- must google it). Evidently some famous cyclists in town including Lance Armstrong. Admired the Belfort but decided not to climb the 366 steps to the belfry as it was raining. There are 47 carillion bells that are rung by a mechanism installed in 1748. We wandered down what appeared to be one of the main shopping streets – lots of chocolate shops – went in one called Neuhaus and picked a coffee chocolate for me and Andrew – it had to be the best chocolate I have ever eaten (at the cost 1.60 euros each it should be) and we vowed to go back and get more. Being Belgium and being famous for chocolate we indulged about 3-5 times per day as is only right when we saw something we liked the look of.

I saw a small hard shell suitcase I liked the look of and decided I would go back on the last day to get it as there were several there. Also then we could fill it with beer, Lays potato chips and chocolate. We found another small square called the Burg and a church we couldn't find the entrance to. Then continuing on found a huge square with the remnants of a farmers markt finishing off. The amount and different varieties of cheeses and meats were amazing. Decided to eat lunch in this area and Andrew and Nancy had spotted a restaurant that served moules (mussels) which they both love and wanted to try. They come out in a huge saucepan still in their shells with whatever sauce you have asked for. I decided I wasn't that hungry so asked for a Croque Monsieur and frites – princely sum of 10 euros. A CM is basically a ham and cheese toasted sandwich. Now I am going to go on about something so skip this part if you want. Firstly Nancy complained a lot about her freshly squeezed orange juice which wasn't freshly squeezed. Then my lunch was delivered – consisted of two overcooked (for me) pieces of toast with a piece of ham and a piece of cheese that covered one third of the bread – absolutely disgusting so I didn't even touch it. Then to make matters worse I had to ask 5 mins later where my frites were and the waiter told me that Nancy and Andrew's frites ( with their moules) were mine as well and they eaten most of them and they weren't that good anyway. I tried to say that as my frites are paid for separately then they should come on a separate dish but the waiter did the language barrier thing on me – don't understand – so I gave up. Got my satisfaction when we left the restaurant there was a couple looking at the menu and I told them not to go there as the food was crap and they took my advice. The moules were so so as well.

We continued on looking for a particular area of town – saw some picturesque canals along the way and after a while realized we were going in completely the wrong direction. Turns out our hotel is on a street that is right angled – if I had stood on the other part of the street I would have been going the right way following the map. Anyway backtracked our way to the area we wanted. Decided to miss out on the Groeningmuseum – an art museum with some famous paintings and headed for the Onze Lieve Vrouwekerk – Church of Our Lady which has in it Michelangelo's Madonna and Child. It was built over 200 years from 1220 onwards. I have to confess I thought Madonna and Child was a painting – turns out it is a sculpture and a small one at that. Wandered round the church which was magnificent like Catholic churches usually are. Then we went across the road to the Memlingmuseum and Sint Janshospitaal. I had particularly wanted to go here. Hans Memling (1435-1494) was one of the leading artists in Flanders in his time and Sint Janshospitaal was one of his important patrons. It was described as old medieval hospital wards displaying a fascinating miscellany of treasures, paintings and historical medical equipment with a 15th century pharmacy culminating in the chapel where there is a priceless collection of Memling's paintings. Anyway we were definitely in the old hospital, where the actual wards were we couldnt tell. The historical medical equipment was one small cabinet and we missed the pharmacy completely. Did see the paintings though. I was disappointed for 8 euros entrance fee but to be fair the building was magnificent. Continued wandering and came to a canal area full of swans and ducks and where the horses and carriage rides started. Took a few pictures of horses for Rachel – will give them all to her one day and she will very dutifully have to say thankyou Aunty Debbie whilst thinking what a terrible present.

Accidentally stumbled across the Begijnhof which was an enclave of beguines from 1245 until 1928. Beguines were a feature of some European countries which were founded in the 13th century as sanctuaries for women left single or widowed by the Crusades. Although religious they were not a convent and the women could leave to marry. A large park like setting with trees ain the middle of the enclave surrounded by picturesque houses and a church made more wonderful by the fact that it is spring and there were daffodils everywhere. Took lots of photos. Then meandered to find the Huisbrouwerij De Halve Maan which is a brewery. They offered an appelstrudel and coffee for 5 euros so wedecided to have this. Andrew dithered re going on the brewery tour but eventually decided not to. After sheltering from the rain for quite a while and Nancy doing more shopping we made our way back to the Markt and decided to go to a French restaurant for dinner which we had seen the previous night. They were full but we made a time to go back at 2030 – I do wonder if our dress standard wasn't up to scratch – jeans, sneakers, and totally wet from the rain. It was just around the corner from the hotel so we headed back there and tidied ourselves up and went back at 2030. It was called the Bisto den Huzaar on Vlamingstraat 36 – it had a duck onfit that Andrew and Nancy love. I had another steak which was very good and crème brulee for desert. It was very good but pricey as well – about 30 euros with a drink. Back to the hotel and to bed.
Diary Photos
---