Debbie does...round the world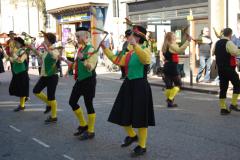 16th Apr 2010 - 18th Apr 2010 - London day trips
Bury St Edmunds
I have been missing my scrapbooking and was browsing my emails when I saw one from Donna Downey (USA) who's classes I have been to in wellington. I opened it instead of deleting and saw that she was doing some classes in England in a place called Bury St Edmund that coming weekend. So I quickly email the people concerned and was delighted to find out there was one space left – 195 pounds for 2 days including lunch. This is about similar to the cost for classes for wellington. I booked a hotel and my trains and was reasonably happy for the rest of the week looking forward to it. There was a huge materials list and after a late night dash to oxford street on the Thursday I didn't have half the stuff I needed.

However the was also the day of volcanic ash and cancelled flights. They let me know Friday about 1400 (already on the bus) that it was 90% likely that Donna would not get to the UK from Germany and by the time I arrived in Bury St Edmund it was confirmed that she was not going to make it. However I was could not get my hotel or train ticket money back and was quite happy to have a relaxed weekend away.

The hotel was right next to Abbey Gardens – a huge park with a cathedral and ancient ruins and full of pretty flowers. The evening was beautiful and after settling into the hotel and buying some sandwiches I settled on a seat in the last of the sun and just relaxed reading in a beautiful setting.

The hotel was called the Angel – I had one of the double rooms in the cheaper part of the hotel which dates back to the 1700's. Charles Dickens stayed just along the corridor from me and penned some of his stories in the Gardens. I had free wireless internet all weekend which I was stoked about – there is nothing like internet that actually works. Proper coffee in the room, a lovely soft bed and TV. Bathroom a bit dated with a bath and one of those short shower things where you are supposed to sit in the bath.
Anyway on Saturday it was a stunning day. Slept until 0900 and then got up specifically as I had an included breakfast – this was oof the menu so I chose the Grill – not too big, fantastic brown soft toast and great coffee and orange juice. Decided to make my way to the scrapbooking shop as they were going to have a cropping day anyway but I had no photos but decided to pop in anyway. There were all these sounds of jingles and jangles out in the street – these were the sounds of Morris dancers – they were having a festival weekend and came from all around the district. They were fascinating and put a smile on my face – all ages wearing ridiculous costumes but really enjoying themselves. I had to really tear myself away after an hour to go to the scrapbooking store. It was like being back at home walking in – group of women around the tables laughing away with paint and photos and cardstock. A Touch of Craft was a reasonable shop and there were a few things I couldn't resist so ended up spending 63 pounds. It was lovely talking scrapbooking with everybody and they were all so friendly – stayed there for about 2 hours. Looks like it will be rescheduled for late September or mid October.

As it was usch a lovely day decided to buy some sandwiches for lunch and a drink and take it to the park. Popped into Waterstones (bookshop) and was delighted that the 3rd Steig Larsson book was finally out in paperback ans as they were 3 for the price of 2 just had to buy 3 books. Had a wonderful chat with the lady at the counter for about 10 minutes re books etc – sometimes having a New Zealand accent does help. Then passed another shop that had a gorgeous hot oink hardshell suitcase – just what I had been looking for – 25 pounds so brought that as well. Then back to the hotel to offload my purchases and spent the rest of the afternoon in the Gardens reading my book and watching others enjoying the lovely spring weather.

Had McDonalds for dinner and spent the evening talking to Mum and Tim, Diane, later my Dad – was lovely catching up with everyone and just made the weekend perfect.
Sunday I slept in and had breakfast – then back to the park to wander around and read some more. Took the train back to London early afternoon and arrived back around 1630 having had a lovely relaxing weekend – lots of sun and beauty around me – just what I need to restore my soul.
Diary Photos
---