D 'n A tandem encore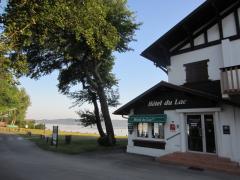 26th May 2017 - 27th May 2017
Leon to Bayonne (63 km) & a no-bike day
Day started well with some picture taking around the photogenic shores of Lac de Leon, but then it was time to lift tender derrières once more onto their saddles.
Hot again, only lower thirties though. About half way thru the day we were relieved to find that the pine plantations of the Landes were NOT endless and there are townships not 100% devoted to sea and sand. A nice little neighbourhood park in Cap Breton for our picnic, including taps to refill water bottles! Luxury. Late in the day we caught our first glimpse of the beaches on the Atlantic Ocean, at Tarnos Beach. Long and sandy with big waves: in Australia it would probably have carried a sexy name like Seventy Mile Beach, but had no people.
Then a turn inland along the Adour river to our destination, Bayonne. Easy to know it's the capital of the French basque region as suddenly many of the signs are in both basque and French languages. Not to mention basque flags and the distinctive crosses in all the souvenir shops.
It's a very pretty city, lots of half timbered houses, well restored, cobbled streets in the old town and a charming swarm of waterside restaurants. We signed up at the Tourist Bureau for a city walking tour. Though in French we were congratulating ourselves on how well we understood the guide (50% is usually an ambitious target). When he turned to us, in English, towards the end we learned that he was a kiwi, once a journalist, but living in Bayonne with his French wife, for over 30 years, working in tourism and keenly interested in history. Anyway it was a supremely interesting tour of Bayonne's long, long history. And the basque influence on maritime history around the globe was a real insight. Not to mention chocolate; and the home of the bayonet (1641).
Diary Photos
26th May 2017 Hotel du Lac (Leon)
---
26th May 2017 Lac du Leon
---
26th May 2017 Forest at Lac du Leon
---
26th May 2017 Water lilies (Lac de Leon)
No
---
26th May 2017 Bike path
On path to Bayonne
---
26th May 2017 Lunch stop
No Des
---
---
26th May 2017 The Atlantic Ocean
---
26th May 2017 The view from our hotel
---
27th May 2017 Our hotel cote basque
---
27th May 2017 Bayonne display in park about beekeeping - Oz gets a mention
---
27th May 2017 Half timbered houses
---
---
27th May 2017 Spoiled for choice
---
27th May 2017 Inner Bayonne
---
27th May 2017 Useful shutters everywhere
---
27th May 2017 Bayonne
The restaurant strip where we had dinner.
---