D 'n A tandem encore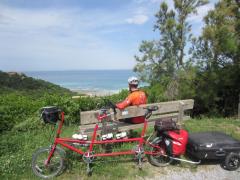 28th May 2017
Bayonne to San Sebastián (65 km)
This is our last day of cycling before we start two weeks of beginner Spanish in San Sebastián, and temperatures are dropping. A predicted 27 deg will not make it above 22 deg. And it was a day off the bike yesterday. All of these things are crucially important for those of us with painful derrières and recently broken wrists that have been severely challenged since leaving Bordeaux.
Our route took us along the coast to the Spanish border. At this point EuroVelos 1 & 3 have combined, though still the Vélodyssée logo prevails. There is much beautiful coastal scenery, which of course means undulating terrain. In the centre there is Biarritz, incredibly chic during the 19th century and into the 20th with many beautiful mansions. Nowadays beaches and surfing are also a focus, up and down the coast, and there are many highly built up areas. So the cycling experience is a bit like going through Sydney's wealthy eastern suburbs: up and down, easy to get lost, fabulous villas, beautiful glimpses, traffic, a fair share of ugly concrete carbuncles.
The border crossing to Spain is a simple river crossing on a bridge. Nearby there is an older bridge featuring the redundant paraphernalia of a customs control and marked on our maps as a cycle path. But it is closed for renovations and tricky to get back onto the main road. And that's the end of the Vélodyssée, the French part of EuroVelo 1.
Irun is on the Spanish side of the border. It's even more obviously basque here - the area is officially bilingual. For our 20 km hop to San Sebastián we combined the main, main road GI-636 and the lesser main road, GI-2638, both busy but with wide stopping lanes that made the riding safe and fast, though noisy. And it's quite undulating. Coming into San Sebastián we picked up great city cycling paths - the city has superimposed a wonderful network, clearly delineated from car lanes with physical barriers. It looks as though they have not been scared to suppress car lanes as required to make it all work. Must have had some planners from the Netherlands assisting.
Final challenge for the day: our landlady hosting us for the next two weeks has kindly let us store the tandem in her lounge. She's up 8 floors and the bike doesn't fit in the lift. So here we go, up the stairs.......
Diary Photos
28th May 2017 A rest stop overlooking the Atlantic.
---
28th May 2017 Definitely into Basque Country now
---
28th May 2017 Basque village
---
---
28th May 2017 Well signposted cycle path
---
28th May 2017 That's Spain in the distance
---