D 'n A tandem encore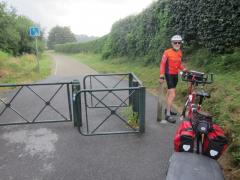 12th Jun 2017 - 13th Jun 2017
SJdL to Urt (47 km), then Dax (51 km)
When the French talk of the Basque coast they mean from the mouth of the Adour River down to the Spanish border, and it's a mixture of steep cliffs and lovely (surf) beaches with Atlantic waves rolling in, and a hinterland of the Pyrenees. And half the population of France there in cars and on foot to enjoy it, so it's hectic. Leaving St Jean de Luz on Monday we were refreshed enough to enjoy the views and the steep inclines and ignore the encumbrances as we retraced our route up the coast. Passing through famous, hectic Biarritz we were pleased not to have chosen it for our stopover. This time round it seemed easy to spot the Vélodyssée signs and stay on the cycle route.
Once at the head of the Adour the route by the river is easy and well signed, taking us back to Bayonne, but this time continuing on upriver, another 20 km or so to our destination of Urt. On a main road, but not too busy.
Urt a small-ish place of 1000 inhabitants, just above the Adour River, our hotel on the Place du Marché. Just a nice little village, modern enough, a 'mediateque' in place of its 'biblioteque' (library), for example, but scratch and its history goes back to before 1200, at which time the Adour was already a transport route and Urt an active port. At the hotel our meal was lovely, eaten under the ruthlessly pruned shady plane trees facing the Place du Marché (where markets are Wed morning).
On Tuesday we continued upstream on the Adour to Dax. Just this last year or so the cycling infrastructure has been given a massive upgrade. The old tow path route by the river is now a beautiful wide cycle path, well signed with the EV 3, Scandiberique, logo. So for more than half of today's travels we were rolling along in the calm, mostly under old shady, green, trees, with a view of the river, and free of traffic. There is a sprinkling of info panels along the way that detail the centuries of river transport, agriculture and other activities that have occurred over the centuries. We were particularly taken with the flood control activities of the 1600's when they engaged Dutch experts to assist!
Spotted a few storks nesting on high platforms in fields or even above railway lines, also feeding in fields or ponds. A few snakes also, mostly squashed on the road, but one wriggling.
And so to Dax, also on the Adour, 21,000 inhabitants. History back to Roman times, but not immediately appealing. We did an evening walk around the town centre, coming across excellent photographic displays from 20 famous photographers, in large format prints, in front of the more significant buildings or open spaces.
Off further upstream on the Adour tomorrow.
Diary Photos
12th Jun 2017 Barriers on the bike path
---
12th Jun 2017 Beach front development
---
12th Jun 2017 About to leave the Atlantic Ocean
---
12th Jun 2017 Beach front development
---
12th Jun 2017 Wallaby Cafe
---
12th Jun 2017 Very large hydrangea bushes
---
12th Jun 2017 Almost big enough to hide behind
---
12th Jun 2017 Our hotel in Urt
---
13th Jun 2017 Absorbed metal support for the trees
---
13th Jun 2017 Shade trees
---
13th Jun 2017 Storks nesting above railway line
---
13th Jun 2017 On way to Dax
---
---
13th Jun 2017 We ignored the deviation
---
13th Jun 2017 Good quality cycle path
---
13th Jun 2017 Lunch stop at Saubusse
---
13th Jun 2017 Flood control gate
---
13th Jun 2017 13th century building
---