D 'n A tandem encore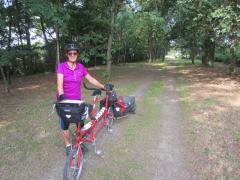 14th Jun 2017 - 16th Jun 2017
Dax to Saint-Sever (52 km), to Labastide d'Armagnac (63 km), & a circuit
Most of our travelling these 3 days has been on a 'greenway', along an old railway line, the 'Voie Verte du Marsan et l'Armagnac'. This one is well established, well over a decade old, with good signposting, terrific shade,and all the old railway station buildings are still intact, though sold off, mostly as private homes. The main drawback is the surface which is often just gravel strips through grass, so quite heavy going. It's reserved for horses, bikes and walkers, so I guess the horse riders like it the way it is.
In St Sever we lucked out with a beautiful B&B that also served us dinner. One of those huge houses built around the 1790's, surrounded by a beautiful garden, run on organic principles, chooks, vegetables, lots of flowers. And just across the road the 'historic centre of the village'. Its abbey building is on the UNESCO world heritage list, a Norman style building, dating back to the 1050's, and now a stop on the Camino trail. But the astonishing part is how it's been dissected by the French Revolution: all confiscated, then only the actual church handed back, the rest, cloisters and all, part of the town hall complex, or just small shops. Haphazard brickwork everywhere. A nearby monastery building is even more 'wrecked' never returned to religious use, but roughly adapted for 'miscellaneous' activities needing a big space: on Wed night one of the parliamentary candidates was holding a public meeting, with the Emmanuel Macron candidate scheduled for Thursday night.
For Th & Fri nights we booked into a B&B on a vineyard producing Armagnac, a few km from Labastide d'Armagnac. Similarly impressive to the previous night's accommodation For Friday we've been able to do a circuit in the area without hauling our luggage - luxury. Got almost to the end of the Voie Verte, and returned via the tiny chapel, Notre Dame des Cyclistes. A real church though mass only celebrated rarely, but the inside a veritable museum with hundreds of cyclist jerseys, and a few old bikes, eg WW I French army folding bikes, and a 1930's tandem. This year's Tour de France will pass by for stage 11 on July 12: the fifth time the Tour has come by.
The agricultural view of these three days has been of fields of corn or sunflowers - all ready for those great shots for TV coverage of the Tour. We are in prime territory for Foie Gras production but there was a recent avian flu problem outbreak and all ducks were destroyed in January, with restocking of day olds only authorised from May. Many producers have gone out of business.
Diary Photos
14th Jun 2017 Bike path to Saint Sever
---
14th Jun 2017 Garden at our accommodation
---
14th Jun 2017 Garden at our accommodation
Garden at
---
14th Jun 2017 Birthday dinner
---
14th Jun 2017 Our accommodation
---
14th Jun 2017 Cathedral Saint Sever
---
14th Jun 2017 Political posters
---
15th Jun 2017 Cloisters, sain
---
15th Jun 2017 A doorway that has changed over time
---
15th Jun 2017 Cathedral wall changed over time
---
15th Jun 2017 Good quality bike path, but didn't last
---
---
15th Jun 2017 Our accommodation, Bastide d'armagnac
---
16th Jun 2017 Lavoir at Labastide d'armagnac
---
16th Jun 2017 Tour de France to visit
---
16th Jun 2017 Arty shot of the gates, ND des Cyclistes
---
16th Jun 2017 Notre Dame des Cyclistes
---
16th Jun 2017 Notre Dame des Cyclistes
---
16th Jun 2017 Lunch stop,
---
16th Jun 2017 Travelling light, no luggage
---
16th Jun 2017 Solar array
---
16th Jun 2017 Solar panel roof
---
16th Jun 2017 Labastide d'Armagnac
---
16th Jun 2017 Labastide d'Armagnac
---
16th Jun 2017 Labastide d'Armagnac
---
16th Jun 2017 Labastide d'Armagnac
---