D 'n A tandem encore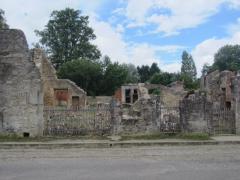 28th Jun 2017
Oradour-sur-Glane (76 km round trip)
After heavy rain all night we set off during a break in the weather on Wednesday morning to get to Oradour-sur-Glane. Without trailer or panniers we seemed to fly up hills, of which there were many.
Oradour-sur-Glane is a memorial village. Four days after D-day, on 10 June 1944, 200 german troops came to the village, rounded up 642 villagers for an 'identity check', herded the 198 women and children into the church, and the men into various barns. Then all were shot and the whole village incinerated. Six men escaped from a barn and two children survived in the church. The village, cemetery and all, is now preserved exactly as it was left, and visitors are asked to maintain a respectful silence. It's very moving. Entry is through an interpretive centre (which we didn't have time to visit, fearing the weather) built into the hill. We noticed that President Macron had come to place a plaque, on 10 June this year, so just after his inauguration.
All morning we had dodged black rain clouds but on the way back to Exideuil we were caught twice in fierce storms. The first we sat out in a convenient barn (& read the Canberra Times on our iPads). For the second we sheltered under a verandah near a church, along with a local cyclist heading out for a training ride, and learnt that there was still a single survivor of the OsG massacre living in the area, the other having recently died.
And so back to safe Exideuil, relatively dry, ready to venture out to eat at the local cafe, where most of the clients seemed to be English - quite a British enclave around the area.
One significant concern for today is the discovery that the flange on our back axle has started to fracture. Two spokes are dangling uselessly where the flange has broken. The Shimano Capreo hub is not something easily replaced, so we are just going to cross fingers and hope for the best.
Diary Photos
28th Jun 2017 Oradour sur Glane Massacre Memorial
---
28th Jun 2017 Oradour sur Glane Massacre Memorial
---
28th Jun 2017 Oradour sur Glane Massacre Memorial
No Description
---
28th Jun 2017 Oradour sur Glane Massacre Memorial
---
28th Jun 2017 Oradour sur Glane Massacre Memorial
---
28th Jun 2017 Oradour sur Glane Massacre Memorial
---
28th Jun 2017 Oradour sur Glane Massacre Memorial
---
28th Jun 2017 Oradour sur Glane Masacre Memorial
---
28th Jun 2017 Thunderstorm shelter
---
28th Jun 2017 Bike showing signs of wear
---
28th Jun 2017 Ominous sky
---
28th Jun 2017 Clouds Clearing
---