D 'n A tandem encore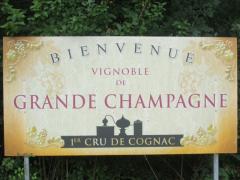 26th Jun 2017 - 27th Jul 2017
Cognac to Angouleme (56 km) to Exideuil (66 km)
Monday was very pleasant easy cycling on a well posted cycle route upstream along the Charente River (which gives its name to the whole department, and was a vital transport route back in the day). And another rambling, quirky, likeable B&B at the end of the day. Also the day when we completed our first 1000 km of the trip!!!!!!!!
Monday was also our first properly wet day of the trip, with forecasts worsening over the next few days, so we took plotted and researched the next few days accommodation allowing us to hide indoors if necessary, and still make it to Oradour-sur-Glane, and get back onto our main route.
Angouleme's immediate attraction is the number of murals through the old town sitting on top of the hill behind the remparts. The town has a museum of 'bande dessine' (which we didn't have time to see) and these cartoon figures are the basis of the murals.
On Tuesday we headed out of the valley of the Charente to Exideuil along the Vienne river (which river we will be following towards the Loire over several days). Rain threatened all day and a huge deluge finally started as we passed a sports field with a very convenient shelter. We shared the space with some woodcutters interrupted in their cutting down a small plantation of poplars and had quite a sociable half hour till the storm blew over. These plantations are planted by local communes and get harvested every 25 years or so. The main trunks go into the plywood industry, where they get 'peeled like a roll of toilet paper', but one of the uses of this 'peel' is to make the boxes that wrap cheeses, such as the Camembert cheeses in so many supermarkets.
Our B&B for two nights is owned by an English couple. He is a plumber and most of his work comes from the very large number of English people who have settled in this area. We gathered that Brexit & the pound sterling exchange rates are concerns for this enclave, many of them retirees.
Diary Photos
26th Jun 2017 Cognac vineyards, Grande Champagne
---
26th Jun 2017 Precise plantation
---
26th Jun 2017 Port de Saintonge
---
26th Jun 2017 Memorial to wine making in the Charente
---
26th Jun 2017 Beautiful bridge
---
26th Jun 2017 Roadside memorial to WWII resistance fighters
---
---
26th Jun 2017 Girl on the Remparts mural, Angouleme
---
26th Jun 2017 Mural, Angouleme
---
26th Jun 2017 Cartoon mural, Angouleme
---
26th Jun 2017 Mural, Angouleme
---
26th Jun 2017 Mural, Angouleme
---
27th Jun 2017 Breakfast in Angouleme
---
27th Jun 2017 Bathroom view, Angouleme
---
27th Jun 2017 Chateau de la Roche a Foucauld
---
27th Jun 2017 On road to Exideuil sur Vienne
---
27th Jun 2017 Harvesting Poplars
---
27th Jun 2017 Vienne river at Exideuil sur Vienne
---
28th Jun 2017 Oradour sur Glane Massacre Memorial
---
28th Jun 2017 Oradour sur Glane Massacre Memorial
---
28th Jun 2017 Oradour sur Glane Massacre Memorial
No Description
---
28th Jun 2017 Oradour sur Glane Massacre Memorial
---
28th Jun 2017 Oradour sur Glane Massacre Memorial
---
28th Jun 2017 Oradour sur Glane Massacre Memorial
---
28th Jun 2017 Oradour sur Glane Massacre Memorial
---
28th Jun 2017 Oradour sur Glane Masacre Memorial
---
28th Jun 2017 Thunderstorm shelter
---
28th Jun 2017 Bike showing signs of wear
---
28th Jun 2017 Ominous sky
---
28th Jun 2017 Clouds Clearing
---
29th Jun 2017 Our very English B&B in Exideuil
---
29th Jun 2017 Arriving in Confolens via le Vieux Pont (14 th century)
---
30th Jun 2017 Breakfast overlooking the Vienne in Confolens
---
30th Jun 2017 Rainy day in Confolens
---
30th Jun 2017 Pretty, wet Confolens
---
1st Jul 2017 Lookout over a tributary of the Vienne
No
---
1st Jul 2017 Lunch in Esse
---
1st Jul 2017 Our lunch stop in Esse
No Description
---
1st Jul 2017 The church in Lesterps, once part of a large abbey
---
2nd Jul 2017 Making our way along a "Google" path that became a paddock
---
2nd Jul 2017 Availles Limouzine
---
2nd Jul 2017 Lunch stop under a verandah, in light rain
---
2nd Jul 2017 Short section of rail trail to Lussac les Chateaux, that was a bit too rough
---
3rd Jul 2017 Nuclear power plant so close to the road
---
3rd Jul 2017 Chateau de Toufou
---
3rd Jul 2017 Looking at the sun
---
4th Jul 2017 Our Chambres d'hotes in Vouneuil sur Vienne
---
---
4th Jul 2017 Emmaus: French equivalent of St V de P opp shop
---
---
4th Jul 2017 Pieces like this are marked 80 euros
---
4th Jul 2017 Drawing the crowds on a sunny Tuesday
---
5th Jul 2017 Impressive gateway
---
5th Jul 2017 34km to Tours
---
5th Jul 2017 Clear signs for bikes
---
5th Jul 2017 Whole roof is solar panels
---
5th Jul 2017 21km to Tours
---
5th Jul 2017 15km to Tours
---
5th Jul 2017 13km to Tours
---
5th Jul 2017 8.4km to Tours
---
---
5th Jul 2017 Arriving in Tours
---
5th Jul 2017 Countdown to Tours
---
6th Jul 2017 Train to Chateau Chaumont
---
6th Jul 2017 Flower border at Chateau Chaumont
---
6th Jul 2017 Flower Garden
---
---
6th Jul 2017 Sculpture, Chateau Chaumont
---
6th Jul 2017 Japanese garden
---
6th Jul 2017 English garden
---
6th Jul 2017 English garden
---
6th Jul 2017 Korean garden
---
---
6th Jul 2017 Rectangular pond
---
---
6th Jul 2017 Chateau Chaumont
---
6th Jul 2017 Artist's garden
---
6th Jul 2017 Artist's garden
---
6th Jul 2017 Wall of picture frames
---
---
6th Jul 2017 Osier archway
---
6th Jul 2017 Umbrella garden
---
6th Jul 2017 Leafy garden
---
6th Jul 2017 Chateau Chaumont
---
6th Jul 2017 Shade structure
---
---
---
---
---
6th Jul 2017 Cyclist's tan
No Description
---
6th Jul 2017 A welcome cold drink at the top of a hill
---
6th Jul 2017 Outdoor restaurants in Tours
---
7th Jul 2017 Tours Cathedral is illuminated at night
---
7th Jul 2017 Monster place, Tours
---
7th Jul 2017 Tours cathedral blue/ yellow
---
7th Jul 2017 Tours cathedral blue
---
7th Jul 2017 Tours cathedral multi coloured
---
7th Jul 2017 Illuminated cathedral
---
8th Jul 2017 Bike packed & on way to Paris
---