D 'n A tandem encore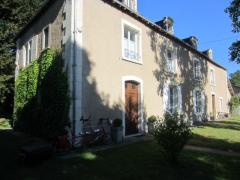 4th Jul 2017 - 5th Jul 2017
Étape finale: to St-Maure-de-Touraine (58 km), to Tours (45 km)
Our final two days of riding passed smoothly enough. We left the Vienne Valley (which will join the Loire some way downstream from Tours). Late Tuesday afternoon we happened by the "Maison de la Memoire" at a small village called Maillé, and were drawn into a museum commemorating another WW II massacre of civilians (124), this one on 25 August 1944, the same day French forces rolled in to liberate Paris. Interesting documentary made recently (2004?) interviewing survivors. Stifling 38 degrees when we emerged and the last 10 km to St-Maure-de-Touraine was tough.
Another beautiful B&B in SMdT, this one called La Chuchoterie ('whispering', bizarrely, as the owner had the loudest speaking voice imaginable). Very old building, once a full service, go to woe, paddock to plate, butchery, lovingly repurposed by the new owners of ten years. Ate with the owners and had lively discussion on state of the world. At breakfast we got to try St-Maure-de-Touraine cheese, a goat cheese with a special characteristic of a piece of straw through the centre to 'oxygenate' it.
Wednesday, the final stage, taking us down to the Cher and Loire rivers. No dedicated bike paths, just quiet roads, but the signposting for the cycle route is suddenly superb: no ambiguous intersections, and a steady countdown of distance to Tours. We are into the "Loire à velo" area which has been actively promoted and improved for over 20 years and where cycle tourism is a recognised business.
Arrival into Tours for three nights at our convenient hotel by the railway station and tourist office, Hotel Val de Loire. One last challenge: to convince the manager that our tandem was indeed small enough to be lifted into the courtyard, and need not be locked up on the street. Tick.
Summary: despite all our initial doubts about the effect of Anne's broken arm, and the further doubts when we discovered the cracked hub on the back wheel, we have completed our trip. Almost 1450 km - pity it's not a round 1500km!
Diary Photos
4th Jul 2017 Our Chambres d'hotes in Vouneuil sur Vienne
---
---
4th Jul 2017 Emmaus: French equivalent of St V de P opp shop
---
---
4th Jul 2017 Pieces like this are marked 80 euros
---
4th Jul 2017 Drawing the crowds on a sunny Tuesday
---
5th Jul 2017 Impressive gateway
---
5th Jul 2017 34km to Tours
---
5th Jul 2017 Clear signs for bikes
---
5th Jul 2017 Whole roof is solar panels
---
5th Jul 2017 21km to Tours
---
5th Jul 2017 15km to Tours
---
5th Jul 2017 13km to Tours
---
5th Jul 2017 8.4km to Tours
---
---
5th Jul 2017 Arriving in Tours
---
5th Jul 2017 Countdown to Tours
---