aroundtheworld2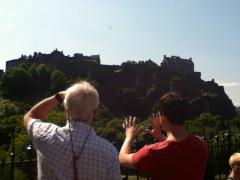 3rd Jul 2013 - 10th Jul 2013 - Manitoba to South America




North to...



Our next destination was in northern England on the river Tyne. Ed and Lucille had been working on the Clifford family memory album for almost 2 years. Their mother kept so many cards, notes, receipts and letters from her married life. They found letters from a distant relative in Newcastle and the birth certificates of their dad and grandmother from Newsham and Blyth.

We went to the address on the most recent letter from 1961 but no one was home. At a neighbours house a grandmother who was babysitting said she would deliver a message the owner of the house. We have not heard from him so do not know if he was a relative. We went to the seaside community of Blyth to take photos of where Lucille and Ed's dad and grandmother were born and lived before immigrating to Canada. It is a charming area complete with those colourful bathing shacks you see on postcards. We had a wonderful time on a double decker city bus touring along the coast.

In Newcastle Ed took me to see the historic site of where Hadrian's wall began on the shores of the Tyne. This wall was built to keep the wild northern Scottish tribes out of England when it was Roman conquered land.

Edinburgh

We took a day trip to Edinburgh from Newcastle by train to explore the city and meet up with Ed's Great Nephew Cam and his partner Courtney.
They gave us a delightful tour of the city including, of course, the famous Edinburgh Castle, which was set up for the world renowned Military Tattoo at that time. Unfortunately, we could not stay and watch and listen to the marching bagpipes. We wandered around the old city and down part of the Royal Mile to Holyrood Palace. It was then time to hit a pub for lunch. We were so lucky to be in Edinburgh on that Sunday, the last day of Wimbledon 2013, with Djokovic taking on their native son, Andy Murray. It was an experience of a life time to be in a room full of cheering Scotsmen and women. As Paul Richardson said...it would be great...as long as he won! And the rest, as they say, was history. We even had time to tour the Greyfriars Kirkyard, home of Greyfriar Bobby, the little dog who waited by his master's grave for 14 years until he himself died. The story was made into a movie.
Thanks, Cam and Courtney for a fabulous day.



Diary Photos
---