SouthernCross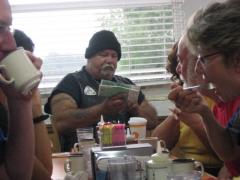 30th May 2008
St Augustine. The City of God. The Fountain of Youth. The Atlantic Ocean and Journey's End
The last couple days were a hoot. Our route included a 20 mile cruise along a rails-to-trails in Gainsville. The group moteled in Palatka and strolled the midway at the Blue Crab Fest.
The last ride was a delight - a short 35 mile day on scenic, lightly traveled backroads along the water. Dave and Christina debuted a duet with a few verses of "This Land Is Your Land". We passed farm folks flinging cantelopes and stopped and refilled at a crossroads called MoleAsses Junction. We reached St Augustine just after Noon. Steve broke out an official Southern Tier jersey he'd carried all the way at the bottom of his back just for this day.
We dropped our gear at "The Pirate" a hospitable, not hostile, hostel in the heart of the old city. The circus formed up one more time for a last fling, filing in traffic over a draw bridge and out a couple miles to the beach.
Eileen and I hiked our bikes over the soft sand and into the warm shallow salt water. ( We'll clean 'em when we get home. ) We touched the front wheels of our bikes together, smiled and posed for Sherl who had our camera, sharing what she'd call, "a smoochy moment." I snuck a bottle of champagne onto the beach and popped the cork. It was warm but tasty.
The tribe held on as folks dropped out and were picked up by family or friends. We'd pretty much eaten, slept, rode, and sweated together for the past 60 days. Each in their own way kept it all together and helped each other to get here. Sherl's excellent poem at our Victory Dinner was a highlight. Nick offered his 2 cents to anyone who asked for it.
Andy, the Enableator, disaapeared quietly and headed off to a new home he'd yet to see in Chicago. He'll be heading farther North in a few days to help a a group of fewer folks, form up, feed themselves find their way and cooperate with minimum commotion pedaling from Montana to Alaska.
We said good bye many times and there were some hugs, many smiles and even a few tears. We gathered the remains for a couple more dinners cooked up by competent chefs, with limitless ingredients and delivered with smiles by hard working waiters.
As we were forming up in the hallway for dinner a young, lean cyclist hefted his bike up the stairs. Brian from NC speaks with the soft mildly Southern accent, of the Mid Atlantic. Young confident, strong. He could have been from the future or from our own pasts. We invited him to join us. He's on his way South past the Capes and Beaches to Key West, 90 miles from Havana. His buddy from Indiana, "somewhere near Chicago" had dropped out. His friend found camping too creepy. Brian was cheerful about it and seemed happy to continue solo.
He opted to join us and we all relived some moments and replayed the highlights for Brian, trying to communicate despite sweet voiced live music that was too loud. It was good practice trying to distill moments and summarize. in an interesting manner.
The last of the tribal elements dissolved as we rejoined the 21st Century in this Ancient City full of tourists out for a 3 day weekend. Truly, we never thought we were invincible but the many folks in small towns and stops along the way helped sustain the myth that we were something special. That feeling helped get us here too. Maybe we aren't so special but we are TransContinental Cyclists now. For our efforts we're all a few pounds lighter, just a bit leaner; and if not wiser, also a bit more flexible. We don't really look any younger either but we got back in touch with our youth and have pretty good though oddly lined tans.
Diary Photos
---