SouthernCross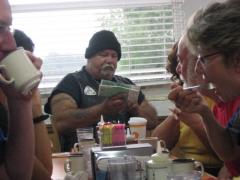 30th May 2008
ReEntry
On the way to the airport, we rented a soccer mom mini van , hopped up on I-95. It all became a 65 mph blurr again. Thought I saw the shadow of a star spangled recumbent cyclist on the shoulder along I-10
We boxed up the bikes at Amtrack in Javksonville. Nick couldn't bust one of his pedals off and broke and allen wrench to prove it.
At the airport, TSA took a brief, passing interest in the dense metal of my bicycle multitool. He examined it and was relieved to see no sharp blades; only hexes, spoke and a chain wrench. He congratulated me on the trip when I over explained the reason I was carrying it in my front pack that now looks more like a purse.

Chatty Captain. 509 mph. 6 miles high 48 degrees outside. Headed Northwest. I always prefer a window seat. 3 of the 13 original colonies passed under wing. The patchwork quilt of early property lines delineate borders of green and brown, tan land and blue water. Spring colors becoming summer. Farther west Jefferson's grid reappears. The flight attendant served us warmed pecans in a dish along with cold Heineken.
Reaching cruising altitiude and speed. Two F-18's buzzed to the right and up off our wing headed somewhere fast. More clouds. Less land, more like a blue mist below. Reviewing digital pictures, our life since Texas flashes before us. We smile and toast "getting there".
We drop through some clouds near the South Shore of Lake Michigan. Valparaiso was directly below. Michigan City was off the wingtip. The shore of Lake Michigan curved up and off the the left and disappeared in the distance. There must be some scenic, lightly travelled, good surface, roads down there.
Diary Photos
---