Bondi Burrows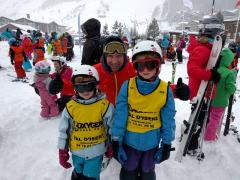 2nd Jan 2016 - 10th Jan 2016
Val D'Isere 2016
As lovely as it was to see family back home for Christmas, our real reason for coming back up over in winter was the chance to return to our favourite French ski resort: Val D'Isere. When we were last there in 2003 we were a big group of carefree, childless twenty-somethings. The days were packed with as much skiing as possible followed by nights packed with as much beer and toffee vodka as possible. We had an amazing ski guide called Rob who had told us one day of the fabled Ski Club of Great Britain Le Fornet to Tignes Le Brevieres race. It was basically a challenge to ski from the top left of the piste map to the bottom right, including the highest point of each of the four ski areas. We had planned to attempt if on our last day in 2003 but the excesses of the week caught up with us and we spent the day in bed with gastro. We had to do it this time - or it could be another 13 years until we returned again!
A lot changes in 13 years and this time round we were travelling with family - Fiona, Jason, Dylan and Molly. The snow reports before we left England had been pretty ordinary, but we were delighted to see our first flurry of snowflakes as we travelled up into the alps on our airport transfer bus. By the time we reached the resort it had been coming down heavily for 24 hours. It was going to be a good week. The kids were booked into ski school from Monday, but for our first day we had a nanny come to entertain the kids in the chalet. The funnival express train to the top of the mountain departed just across the road from the chalet and we were on our first slope by 9.30am. It took us a few minutes to adjust to skiing in fresh powder but we were soon nailing it down the OK Orange piste at full speed. The morning was glorious sunshine but by early afternoon the clouds rolled in and visibility changed dramatically. After lunch we had been enjoying some easy greens and blues off the Grand Prix lift but suddenly the deep snow turned into invisible moguls and we went to pieces. So we called it a day and returned to hear our excited children regale stories of sled rides, snowmen and igloo building.
It snowed all night and was still coming down heavily on Monday morning as we bundled the kids with their skis, boots, gloves, helmets and goggles on the bus to the ski school in Val D'Isere itself. We were worried they wouldn't enjoy it, especially as we left a grumpy looking Emily trudging across to the kids zone. With very poor visibility we stuck to the runs we knew well from the day before and took advantage of a less than perfect day for a leisurely lunch with plenty of vin chaud. We arrived home in time to be greeted by rosy faced children beaming after an afternoon of playing in the snow. Ski school had been a complete success then Katie the nanny collected the children from ski school at lunchtime, took them home and gave them lunch then entertained them all afternoon. What a fantastic service. The evenings in the chalet were a far cry from our nights in the Morris Pub 13 years ago. Cups of tea, cake and performances from the kids! Our chalet hosts Noah and Ben were avid ski boarders who entertained us each night with tales of their exploits building their own ski jump behind the chalet. After they finished for the night they would leave us a carafe of table wine and we'd spend a quiet night in front of the fire.
Tuesday we woke to glorious sunshine so after dropping off the kids we hopped back on the bus to Le Fornet, possibly my favourite part of the Espace Killy. It's a small area with only a few runs but with fresh snow and virtually no-one else around it was perfection. At the top of the gondola we skied around to the next chair lift to get to the top of the mountain only to find it hadn't opened yet. We got numb toes waiting the 5 minutes for it to open but it was worth it - we were the second group on the lift, and the first ones on the freshly groomed piste. The stuff of ski dreams. We were all beaming like children when we got back to the lift. Second time down and we spot an ungroomed run off to the right. We can't resist the idea of skiing in knee deep powder although none of us have the remotest idea how to turn. There's much hilarity as we fall and disappear into human shaped snow holes. Lose a ski and you are searching for half an hour for it under the snow. Eventually we get the hang of lifting our ski tips, turning slowly and leaning RIGHT back. Definitely need more powder practice! We reluctantly stop for lunch at the rather lovely Signal restaurant and it's also perfect - gorgeous French food and stunning views back down the valley to Val D'Isere. After lunch we take the up and over lift into La Solaise and eventually ski back down into Val. A truly fantastic day.
Filled with confidence after our great day yesterday we were more than ready to tackle the Le Fornet to Tignes Les Brevieres race the next day. Fiona and Jason decide not to join us and spend the day at a bit more of a leisurely pace - they kindly offer to be home in time to meet the nanny at 4pm. There were so many variables that could stand in the way of us completing the challenge. Not enough snow and the tracks at the lowest altitude into Les Brevieres would be closed. High winds or poor visibility could close high altitude lifts and crucially the up and over lift connecting Le Fornet to La Solaise had to be open - yesterday it didn't start operating until 11am. Anticipating we wouldn't have time to stop for lunch we stuffed our pockets with croissants and headed straight to Le Fornet. The ski gods were looking kindly on us - gorgeous sunshine and the up and over lift planned to open at 9.30am. When we reach the top of Le Fornet we have to wait 5 minutes for the drag lift to take us to the very top and the official start. At -15' it was beyond freezing but we are glowing inside with excitement. We nail the run top to bottom non-stop at record speed. It's so good we want to do it again - but the race is on. The up and over lift is running so we head straight into Solaise and up to top of Saint Jacques and our second peak. We barely stop until we get to the bottom of Val D'Isere village and it's straight onto the gondola to Bellevarde peak. It's only 10.30 and we are going great guns - we spend the whole time in the gondola frothing about how good the last run was. It's an easy run on familiar piste to the lift across into Tignes, then up the Grand Mott funnival to the Tignes glacier. Here we hit the only disappointment of the day. The cable car to the very top of Grand Mott is closed due to high winds. Nothing else to do put race downhill back to Tignes village. Two more lifts and we are at our final summit - l'aiguille percee: the pierced rock. The clouds have rolled in and it just begins to snow as we follow the signs to Tignes Les Brevieres. As the visibility drops we take a left fork marked as a blue run, but somehow end up on a double black. Just what we need after 3 hours of non-stop skiing. It's a sudden change of pace as we negotiate narrow ravines and steep moguls. We'd usually relish a tricky technical black but not today - a bad tumble here and it's all over. We schuss out the bottom of the run with big grins on our faces - it's literally all downhill from here. We follow the easy road trail down through the trees, passing stunning icicles on the rocks. We arrive in Les Brevieres at 2.30pm. Smashed it. We'd been researching cab options to return by road to Val in case we didn't make it before dark! A plate of chips and a celebratory vin chaud at a bar while we let our achievement sink in. Then we decide to ski all the way back. To Le Fornet. We make it to the up and over lift into Le Fornet just 3 minutes before it closed, then skied non-stop to the bottom of Le Fornet. With legs of jelly we schuss down to the road. 3 hours 30 minutes and 49km to Les Brevieres, 2 hours 17 minutes and 28km back. Epic. And it was still only 5pm. Time for a celebratory beer at the Morris, then home to Jason and Fiona and a bottle of champagne.
With our newly acquired extensive knowledge of the piste map we took Jason and Fiona over to Tignes the next day. It was still snowing, but it was a little warmer and the snow was very wet on the bottom slopes towards Les Brevieres. By the time we reached the village we were covered in snow - and dripping wet. We hole up in a warm restaurant for a leisurely lunch, then head back across to Val D'Isere. It's a total whiteout at Toviere peak, and the wind is so strong we are almost skiing backwards. The usually easy Edelweiss run suddenly became the hardest run we'd ever done. With zero contrast the edges, lumps and camber of the piste were invisible - drop offs or mounds would just appear beneath your skis. Even worse this run had a few schuss sections - if you don't pick up speed on the downhill you end up walking for ages uphill. We had to trust to blind faith as we guessed the points to schuss from - occasionally picking up too much speed and getting some big air on the other side! It was time to call it a day, and we spotted our kids with the nanny sledging by the side of the road - time to join in! That night we have a babysitter and head out to the pub.
Friday was our last day skiing so we head to the one area we hadn't skied much - La Solaise. Not much is open early so we whizz up and down some easy motorway greens and blues until lunchtime. There's no nanny today so we pick up the kids and take them up in the chairlift to La Solise. The afternoon is spent following the kids down the green Madeline slope - they were really rather good - Zoe and Emily even performing some mid-ski front rolls! The girls were so excited to show us their skills and didn't get bored going down the slope again and again and again. We have such a good time that we almost miss the last gondola down the mountain. Val did not disappoint - a truly awesome ski trip.
All good things come to an end and the next morning we are up at 4am to get the transfer coach to Lyon airport, then our flight to Gatwick is delayed 2 hours. At Gatwick we wave goodbye to the Harveys, then catch a coach across London to Heathrow. With 6 hours to kill we set up camp in a Cafe Rouge at the terminal ordering small things infrequently. Eventually we are on the airplane back to Sydney, arriving home some 40 hours later. Huge thanks to Fiona for organising the whole ski trip - everything was just perfect.
Diary Photos
4th Jan 2016 Ski Bunnies
An excited Zoe and a grumpy Emily ready for the slopes
---
4th Jan 2016 Harvey Ski Bunnies
Molly, Dylan and Jason were all equally excited.
---
4th Jan 2016 Happy Rosy Faces
After a fabulous day playing in the snow
---
4th Jan 2016 Evening Entertainment in Val 2016
The back scratching train.
---
5th Jan 2016 Le Fornet Powder
Lean Back Jason! Photo does not do justice to the steepness of the slope or the depth of the snow. Just hilarious.
---
5th Jan 2016 Perfect Day at Fornet Glacier
Big Grins on George, Fiona and Jason after a few perfect runs at le Fornet
---
5th Jan 2016 View from Signal Restuarant window
Just stunning. Val D'Isere town is down the valley to the left.
---
5th Jan 2016 Evening Performance Part 1
Towels or cushions on heads dance
---
5th Jan 2016 Evening Performance Part 2
The Girls being cute
---
5th Jan 2016 Evening Performance: The Interval
The girls would come out and do a dance, then Dylan would come and do an advert. This one was for soap.
---
5th Jan 2016 Evening Performance Part 3
The socks on the hands dance.
---
6th Jan 2016 Waiting for Le Fornet Drag Lift to Open
Very excited. Absolutely perfect conditions.
---
6th Jan 2016 The Challenge Begins!
Selfie at the top of the Fornet Glacier. Here we go!
---
6th Jan 2016 Perfect Fornet Piste
The wide open groomed runs beckon us...
---
6th Jan 2016 Top of the Cignal Lift
Highest point of Soliase.
---
6th Jan 2016 View from Solaise
Just stunning.
---
6th Jan 2016 View from Bellevere Peak
---
6th Jan 2016 Selfie at Bellevere
---
6th Jan 2016 Grand Motte
Highest point we could reach on Tignes Glacier
---
6th Jan 2016 L'aiguille percee
Clouds rolling in over the pierced rock. All downhill from here.
---
6th Jan 2016 Ridiculous Double Black
Always good to include an accidental black on a race.
---
6th Jan 2016 We Did It!
Celebratory vin chaud at Tignes Les Brevieres. Awesome feeling.
---
6th Jan 2016 Back at Le Fornet
Such an epic day.
---
7th Jan 2016 Funny Hat Day
Unfortunately our crepe paper decorations didn't last long in the wet snow.
---
7th Jan 2016 Snowy Skiiers
We'd already brushed off the worst
---
7th Jan 2016 Fiona's in There Somewhere...
Slowly thawing out at Breviere
---
8th Jan 2016 Mmmm Hoegarden
---
8th Jan 2016 Emily's Award
Passing out of the polar bear ski group. Very proud.
---
---
8th Jan 2016 Overtired children and a Bear
They had a little passing out ceremony for all the kids. Complete with bear.
---