Bondi Burrows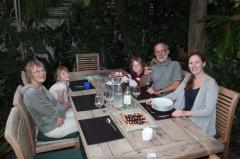 16th Jan 2016 - 1st Feb 2016
Mum and Dad in Oz 2016
With just 5 days between us returning from our European trip and Mum and Dad arriving there was barely time to unpack before we were welcoming them to our new home for the first time. To add to the chaos the car had been in the garage the whole time we'd been away after I'd crashed it 2 days before our flight. Oops. They had promised us the car would be ready the day before the parents arrived - of course it wasn't. In fact it didn't return to us until 4 days after they left. We celebrated the grandparents' arrival with dinner at the new outdoor dining table. With the parents in charge of the girls while George and I were at work, we left Dad a job to do in the garden - fixing up the brickwork around the fireplace. It kept him busy for days! Tuesday was Mum's birthday - the girls set up a treasure hunt following a red string around the house to find her present - very Frozen! With Australia Day on a Tuesday George and I had taken the Monday off to make it an extra long weekend. The plan was four nights in a lovely house by the beach in Bundeena, deep in the Royal National Park. Clairey, G and Sophie flew up on the Thursday and met us at the holiday house. With the car still out of action, we squeezed Mum, Dad, Emily, Zoe and myself into a hire car. Stopping to pick up groceries on the way we had to wedge the bags into every spare nook in the car! George came down on the train after finishing work, and I met him at the station at Loftus. The house was perfect, just a minute's walk from a calm beach on Port Hacking bay. We spent the days playing on the beach, swimming in the ocean and walking in the bush. The Curtis' came down for a day trip on the Sunday, with George and AJ taking their bikes off for a trail ride through the national park. The next day we walked along the river basin and through the bush to have lunch at Maianbar beach. The cafe was set back a bit from the bay but afterwards we wandered back along the shore line at low tide, spotting crabs and wading through the river - a really lovely afternoon. All too soon it was time to pack up and head back home - and we still had the problem of not enough room in the car. So we packed Mum and Dad off on the ferry across the bay to Cronulla with directions to the train station, while I drove a wounded George home (he'd been attacked by a spider in the night and had a very sore armpit). Back home there was only one more day until Emily returned to school, and after the weekend Zoe's first day in Kindergarden came around far too soon. A very excited little girl in her sparkly new uniform excitedly waved goodbye to us, and Granny and Grampy, at the gate. Will miss my little helper at home.
Diary Photos
16th Jan 2016 First Night at Henrietta Street
A lovely meal in the garden
---
17th Jan 2016 New Roller Boots
The girls were given roller boots by the Sinclairs, and Mum and Dad carried them over in their suitcases. Grampy helps Emily try them out.
---
23rd Jan 2016 Friendly Cockatoo
This fearless bird came down to say hello to the girls
---
23rd Jan 2016 George shows Sophie how to tame a Cockatoo
---
23rd Jan 2016 Hammock Fun
A lot of time was spent in the hammock - and Grampy was a star keeping the girls swinging.
---
23rd Jan 2016 Clairey Takes a Plunge
Such a lovely beach for a swim
---
23rd Jan 2016 Sand Turtle
Industrious sand sculpting
---
23rd Jan 2016 More Hammock Fun
Grampy got good height on the swing!
---
23rd Jan 2016 Bundeena Bush Walk
Our walk started off along Jibbon Beach
---
23rd Jan 2016 Swings for Sophie
Emily and Zoe keep Sophie trudging along
---
23rd Jan 2016 Hammock Story Time
Emily reads to Sophie and Zoe
---
24th Jan 2016 Sandcastles with the Curtis'
---
25th Jan 2016 Two in a pram
Zoe was a bit reluctant to give up her pram for Sophie!
---
25th Jan 2016 Sophie the Surfer!
---
25th Jan 2016 Swimming in Cabbage Tree Basin
Heading out along a bush trail to Maianbar we came across a small bridge with little eddies flowing around it - a perfect place to swim with the fishes!
---
25th Jan 2016 Playground at Maianbar
Grampy busy entertaining the children - big and small!
---
25th Jan 2016 Wading across Simpson Bay
---
26th Jan 2016 Last Lunch in Bundeena
---
29th Jan 2016 Coffee at Opera Bar
With Emily back at school this was Zoe's last 'stay home with Mummy day' so we took her (and Granny and Grampy) to see the sights in Circular Quay
---
29th Jan 2016 Zoe and Libby Tree Climbing
Gill and her girls came to meet us for a stroll around the Botanical Gardens.
---
29th Jan 2016 Al-fresco Lunch - in a Thunder Storm!
It was such a perfect day, and George came to meet us for lunch at a cute café by the garden gates. Then the storm hit. Torrential rain lashing across under the umbrella - just hilarious!
---
30th Jan 2016 Ballerina Swings
With Ballet classes restarted for the term we had brunch at Waverley Park before Granny gave Zoe a push on the swing.
---
31st Jan 2016 Last night Fish and Chips
A perfect evening at Bronte beach.
---
1st Feb 2016 Two School Girls
The obligatory pose in the garden. Zoe was just so excited she couldn't wipe the grin off her face!
---
1st Feb 2016 Last Morning with Granny and Grampy
---
1st Feb 2016 Zoe at the School Gate
---
1st Feb 2016 Zoe and Skye
Best friends from daycare, they were to be in the same Kindergarden class. Wishing their teacher the best of luck!
---
1st Feb 2016 Waving goodbye
Zoe had no worries heading off to her classroom for her very first day at school. I was a little bit more emotional!
---