Bondi Burrows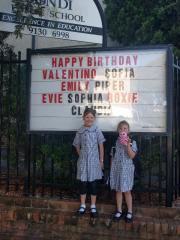 5th Apr 2016 - 10th Apr 2016
Emily's 8th birthday
This year Emily asked to have a group of friends join her at Skyzone to bounce on trampolines and scale climbing walls. And to have a disco party. And to have a sleep-over. With all 7 friends. Somewhat naively we said yes. Skyzone was great fun, lots of bouncing action then everyone had a go at climbing the walls in Skyclimb. Back at the house we fed them pizza before putting on the disco lights. Finally they settled down to sleep on matresses on the floor of Emily's room. Or at least some of them did. Some of them were still awake when George and I got to bed...
Diary Photos
6th Apr 2016 Name on the Birthday Board
Hard to believe this is the 4th time Emily's name has been up on the board at school.
---
9th Apr 2016 Trampoline basketball
Jump high enough and you can hang off the ring
---
9th Apr 2016 Heather climbing
---
9th Apr 2016 Emily Climbing Bubbles
---
9th Apr 2016 Climbing wall race
Emily and Elliette head to head.
---
9th Apr 2016 Birthday Dinner
Pizza all round
---
9th Apr 2016 Birthday Ice Cream Cake
This was the first year we didn't bake and ice a cake for Emily's birthday but she insisted on an ice-cream cake and that meant we didn't have to stay up until 1am the night before icing some creation.
---
9th Apr 2016 Henrietta St Disco
Smoke machine, lasers and Katy Perry. It was going off.
---
9th Apr 2016 Ready for bed
Everyone was given an eye mask before bed so there would be no excuse for not being able to get to sleep
---
9th Apr 2016 Sleepy heads
Only pretending. It's only 11pm after all.
---