Bondi Burrows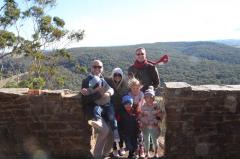 10th Jun 2016 - 13th Jun 2016
Queen's Birthday Weekend in the Southern Highlands
With George's birthday falling on the Sunday of the long weekend there was no excuse not to get away to a holiday house. The weather had turned very wintry so our little cottage in Bowral with it's huge open fire was perfect. It was just us and the Curtis', but with the added complication of their new puppy Elvis. We hadn't been able to find anywhere to stay that allowed pets, so we were banking on the cottage being in splendid isolation on the edge of the village. No such luck. We were right next door to the owner's residence, and he came over to greet the girls and I when we were first to arrive on the Friday night. We had no choice but to confess the next morning, and thankfully we weren't asked to leave!
On Saturday we braved the cold to drive up to Mount Gibraltar for a short walk to take in the stunning views over Bowral. The wind was whipping across the outcrop so we were back by the fire before too long! That afternoon Flips and I spend a delightful few hours exploring the antique shops, then it's back to the house and time to get out the jigsaw. I must be nearly 40! We cook up a lovely dinner that night.
Sunday is George's birthday and he celebrates in style with an invigorating mountain bike ride with AJ, and a bit of wine tasting at Centennial winery. That night we leave the kids with a babysitter and head into town for drinks in the pub followed by dinner. A really lovely evening.
All good weekends come to an end, and we spent 4 hours packing up and cleaning the cottage before we left - this was our first Air BnB booking and we wanted to make up for bringing a secret dog. So we were quite surprised when a few days later we were given an appalling review... 'never in the 10 years of renting our cottage have we had it left in such a filthy state' We couldn't believe it - we had cleaned the kitchen, emptied the dishwasher, stripped the beds... Then I remembered George making espresso martinis with our leaky cocktail shaker. He had taken it into the bathroom to avoid spraying the kitchen cabinets. Which meant he had sprayed the bathroom walls with a brown coloured liquid. Ewwww.
Diary Photos
11th Jun 2016 Mount Gibraltar
Happy hikers braving the bracing winds
---
11th Jun 2016 The Rim Track
Cough cough
---
11th Jun 2016 Emily Exploring
---
11th Jun 2016 Jack and Zoe
Lots of rocks to muck around on.
---
11th Jun 2016 View over Bowral
---
11th Jun 2016 Hanging out on the bench
Charlie, Zoe and Jack.
---
11th Jun 2016 Emily and an anthill
---
11th Jun 2016 Hanging out at Mount Gibraltar
Just out of the wind it was the perfect place to stop to devour the chocolate hobnob bribes we brought with us.
---
11th Jun 2016 Serious puzzling
As our winter getaway we thought it was important to bring our Christmas jumpers. Footy on the TV, fiddly pony puzzle on the coffee table. It doesn't get better than this.
---
12th Jun 2016 Presents for George
Having recently discovered antique stores in Sydney I was very excited to find an old pewter fire set for George to use stoking our outdoor fire.
---
12th Jun 2016 Walking the Dog
Emily and Zoe had a ball entertaining Elvis
---
12th Jun 2016 Birthday Cake
Happy birthday George.
---
12th Jun 2016 Centennial Winery
For just a moment we forgot we had children, happily quaffing fine wine. Then Charlie came in to tell us he had done a poo.
---
12th Jun 2016 Citron 2CV
George relives his early years in an old 2CV parked outside the French bistro were we had dinner
---