Bondi Burrows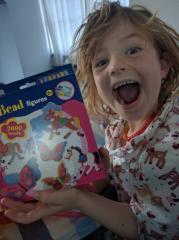 26th Jul 2016 - 19th Aug 2016
Zoe's 6th Birthday
What with our wedding anniversary celebrations and the school holidays we somehow didn't get around to organising a party for Zoe until August. It all worked out well though as another mum from Zoe's class at school suggested sharing the party, and she booked the entertainer! The theme was pirate fairies, and we invited the whole class to join Zoe and Evie at Waverley Park after school. The weather was perfect and the fairy entertainer kept the kids amused until it was time to cut the cake.
Diary Photos
26th Jul 2016 Awesome Hama Beads
A very excited Zoe came into our room early on the morning of her birthday. This gift from Granny and Grampy was a big hit.
---
26th Jul 2016 Beanie Boo!
The start of a year long obsession with Beanie Boo Owls
---
26th Jul 2016 Awesome Car
Super excited about this present too!
---
26th Jul 2016 Happy Birthday Zoe
Six today.
---
26th Jul 2016 Oscar and me
Zoe's giant Beanie Boo Oscar does everything with her.
---
26th Jul 2016 Pirate Cake
Not quite up to the usual standard - shouldn't have used the sloppy ready made icing! The kids demolished it though so it can't have been that bad....
---
19th Aug 2016 Zoe the Pirate Fairy
Evie's Mum organised all the entertainment - and even provided Zoe with this rather awesome pirate outfit.
---
19th Aug 2016 Pirate Games
The excellent entertainer fairy did an amazing job of keeping the kids amused while the parents drank wine.
---
19th Aug 2016 Maidens ready to be rescued
Not sure what Zoe makes of the idea that the boys from her class will need to rescue her!
---
19th Aug 2016 Birthday Pirate Fairies
Zoe and Evie
---
19th Aug 2016 Zoe and the Pirate Boat Cake
Chocolate-tastic
---
19th Aug 2016 Zoe and the Entertainer
And a rather odd balloon animal....
---