Bondi Burrows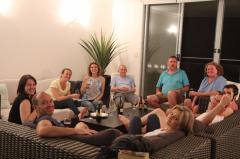 25th Aug 2016 - 4th Sep 2016
Fay's 40th Birthday
It's not every day you turn 40, so to honour this milestone George organised a long weekend in Far North Queensland. We were joined by Katie, Dan and Hugo, The Curtis' The Sharratts, Nick and Beth, Peter and Denise and Clairey, G, Sophie and Baby Ben. This was my first chance to meet my new nephew, who was already 2 months old. We had apartments in a hotel complex on Trinity Beach, with a huge swimming pool overlooking the ocean. The birthday celebrations were on a tight schedule - spa day with the ladies followed by afternoon tea, dinner out at Blue Moon Grill, a tapas night with a onesie dress code, oh and a sky dive. From 15,000 ft. With a 60 second freefall.
Back in Sydney, George and I took the day off for my actual birthday, on a Wednesday. We had a delicious lunch at Catalina's overlooking Rose Bay, then took the ferry into the city for more drinks at the Ivy and Ryan's Bar. We were having so much fun we almost forgot to pick up the girls from after school care! The day was finished off with dinner at the little joint in Bondi. A rather good birthday week!
Diary Photos
25th Aug 2016 First Night Drinks
Looks quite civilised!
---
26th Aug 2016 Cuddles with Baby Ben
Lovely to meet my newest nephew. Very cuddly
---
---
26th Aug 2016 Beautiful Trinity Beach
---
26th Aug 2016 View from our Apartment
The kids spent all day in the pool. Just awesome.
---
26th Aug 2016 Ladies That Lunch
After an extremely relaxing massage and a few glasses of champagne with our high tea. Lovely afternoon.
---
27th Aug 2016 The Small Ones
Emily, Libby, Zoe, Jack, Abby and Sophie
---
27th Aug 2016 Surprise!
The onsie theme was kept secret from me, and when I opened the door to our apartment I was greeted by this. Just Brilliant.
---
27th Aug 2016 Fay the Pink Unicorn
George had secretly packed this rather awesome onesie for me.
---
27th Aug 2016 Onsie-tastic
The children were all so excited to see us dressed up - it made their night!
---
27th Aug 2016 Peter and Denise
Zebra and Giraffe
---
27th Aug 2016 Onesie Sisters
---
28th Aug 2016 Emily the Unicorn
Emily absolutely loved my onesie, so much so we had to buy her one of her very own.
---
28th Aug 2016 Random Dancing
Someone must have put a good tune on the speaker - even Sophie had to join in.
---
28th Aug 2016 Cousin Love
---
28th Aug 2016 Me and My Girls
---
29th Aug 2016 Cousins
Before we left we dropped in to where Clairey and G were staying for one last Baby Ben cuddle and to say goodbye to Sophie and her parents.
---
31st Aug 2016 40th Birthday Lunch
The perfect table by the window at Catalinas.
---
31st Aug 2016 Little Birthday Cake
Thankfully only one candle
---
31st Aug 2016 Lunch with the Stars
Turns out it was also Breakfast show host Sam Armytage 40th birthday and she was celebrating with her Sunrise co-hosts on the table next to us!
---
4th Sep 2016 Birthday Karoke
It wouldn't be a birthday celebration without a SingStar session. After a few drinks out with friends from Bondi School we ended up back at ours belting out our favourites until the early hours.
---