Bondi Burrows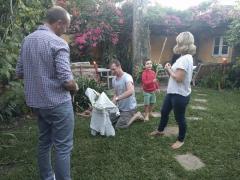 5th Nov 2016
Guy Falkes Night 2016
After having so much fun burning a small model child last year, we invited the crowd around again for an evening of fire and sparklers. Only the Curti's could make it, but that didn't stop us having a lovely balmy evening in the garden, making the most of our new outdoor sofas.
Diary Photos
5th Nov 2016 Dressing the Guy
Last year's guy, dressed in Zoe's old clothes, was a bit traumatic to watch burn, so this year we used my old PJs.
---
5th Nov 2016 Bye Bye Guy
George prepares to toss the guy on the fire
---
5th Nov 2016 Guy in Flames
---
5th Nov 2016 The Curti
Nice new sofas
---
5th Nov 2016 Fay and George
Not often we get a photo of us two relaxing in the garden!
---