Bondi Burrows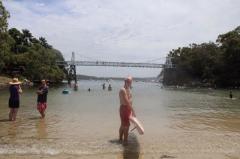 13th Jan 2017 - 19th Jan 2017
Mum and Dad in Oz 2017
It's become an annual event - Mum and Dad coming to stay for a couple of weeks after Christmas.As always, we had a job to keep Dad busy. This year was building a deck in the back of the garden to put the outdoor dining table on. George and Dad spent many hours planning, buying equipment and timber, then clearing the site and constructing the deck. It was a labour of love - and the final result was fantastic. In between we had trips to our favourite spots in Sydney - Parsley Bay and the cliff walk from Bronte to Clovelly. We had some sensational nights out too - Symphony in the Domain, a free concert under the stars finishing up with Tchaikovsky's 1812 overture, complete with fireworks and cannons. And for Mum's birthday, I took her and Dad out to dinner in the Rocks followed by a engrossing ghost tour around the oldest parts of Sydney. We didn't see any real ghosts but it was still spine-chilling!
Diary Photos
14th Jan 2017 Surfing in Parsley Bay
The day after the parents arrived we took them to gorgeous Parsley Bay. The sun was shining and the water calm so we all had a go with the surf boards. Dad was first.
---
14th Jan 2017 Sea Critters
Zoe found a whole colony of these sea bugs by the rocks.
---
14th Jan 2017 Grampy and Granny at Parsley Bay
Walking around to the mouth of the bay
---
14th Jan 2017 Girls on Boards
The girls paddled out to meet us at the top of the bay, then paddled back - we had just enough time to get onto the bridge to watch them pass below.
---
14th Jan 2017 Hi Zoe!
Looking down from Parsley Bay bridge
---
14th Jan 2017 Symphony in the Domain
It threatened rain so we were delighted it stayed dry for our picnic dinner. Photo by Emily.
---
15th Jan 2017 Sewing with Granny
Zoe got a sew your own toy for Christmas, Granny was the perfect person to help out. Especially if that meant she could still sit in her favourite spot on the outdoor sofa.
---
15th Jan 2017 The deck begins
Dad and George start lifting up the old uneven bricks to lay the foundations for the deck
---
15th Jan 2017 More Granny Life Lessons
This time they are making pompoms.
---
15th Jan 2017 Family Dinner
We had to move out onto the lawn while the deck was in progress...
---
19th Jan 2017 Granny's Birthday
Zoe was very keen to help Granny open her cards and presents
---
19th Jan 2017 A special gift from Emily
For grandparents day earlier in the year Emily had written about her grandparents - especially mentioning Grampy's habit of scraping every plate clean. I thought Mum would like it framed.
---
19th Jan 2017 Big Kids and Not so Big Kids
On our way to Bronte for a walk along the cliff path
---
19th Jan 2017 Burrows Park
This is Emily and Zoe's favourite park in Sydney. Of course, And it has an exercise station. Great fun all round.
---
19th Jan 2017 Birthday Dinner
We booked a table at an Italian on a back street in the Rocks - we were literally sitting under the cut-out rock face. Mum had an amazing antipasto platter and was very pleased with her choice.
---
19th Jan 2017 Scariest door in Sydney
The ghost tour took us all around the rocks, pointing out landmarks and regaling sordid stories of Sydney's dark past. Apparently you sometimes see the ghost of a woman in photos of this gate. We couldn't see one - can you?
---