Bondi Burrows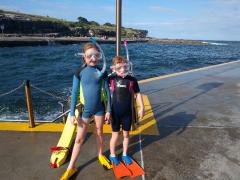 13th Apr 2017 - 26th Apr 2017
Granny Sue in Kangaroo Valley
With our big renovations looming Sue squeezed in a visit before we packed up and moved out of the house for 3 months. We had a few days taking Sue to the beach and snorkelling in Clovelly, and a lovely afternoon in the rocks climbing the pylon of the Sydney Harbour Bridge to take in the views from the top.
Having spent a lovely day in Kangaroo Valley a few months earlier we were keen to go back and explore properly. With a long weekend booked off, and making the most of Anzac Day on a Tuesday we had found a lovely cottage on the edge of town and drove down on Friday evening. We spent a lovely day wandering around the town, checking out the antique shops and homeware stores, then searched for Jasper on the stoney river bank. That night we drove out to a nearby camp sight to see if we could spot wombats - we hit the jackpot. There was a big mummy wombat sitting in the mouth of a burrow, then her little baby came out to join her. As dusk gathered more and more wombats emerged from their burrows and munched away at the grass, oblivious to our delighted squeals!
The next day the nearby pioneer village was open, with blacksmiths, butter making and old style school lessons to attend. I'd read about a gorgeous road by a river just outside of the town, so we headed there for a picnic lunch, stopping by the local community hall on a patch of grass at the roadside. It wasn't the best place to stop. Within minutes our patch of serenity was filled with parking cars - a film premiere was taking place at the hall! After a trip to the stunning waterfall at Fitzroy Falls we had another dusk drive out to the countryside, this time to spot kangaroos - again we were delighted to spot a huge mob out in the field by the side of the road.
For our last day we drove out to the coast at Shoalhaven Heads for a swim at the deserted beach, some beach combing and sliding down the dunes.
It was Anzac Day when we left Kangaroo Valley, so before we departed we wandered down to the town centre to watch the ceremony. It was lovely to watch the small community come together to honour their fallen ancestors, and afterwards the bakery passed around free sausage rolls. Very special. We broke up the drive back with a stop outside Nowra to walk the Bomaderry Creek Walking Track. It looked like a simple loop on the map but after walking along one side of the creek for over an hour we decided we would never come to the crossing to come back the other side and retraced our steps. Then it started raining. We were all exhausted by the time we got back to the car!
Diary Photos
17th Apr 2017 Clovelly Snorkellers
---
20th Apr 2017 Granny Sue Helps in the Garden
With the builders moving in in 2 weeks we needed to clear a few things out fo the way. Zoe and Granny were very helpful.
---
22nd Apr 2017 Green Diamond Python
On our first morning at the cottage we heard the birds getting agitated in the tree outside the front door. Then we spotted this! Eek! Luckily the diamond python is not venomous. phew.
---
22nd Apr 2017 Stone Seat in Kangaroo Valley
---
22nd Apr 2017 A Break from Antique Shops
---
22nd Apr 2017 Fossicking at Kangaroo Valley River
---
22nd Apr 2017 Heart Shaped Rock
---
22nd Apr 2017 Waving from the Bridge
---
22nd Apr 2017 Rocky Haul
Lots of red jasper containing rocks from the riverbank.
---
22nd Apr 2017 Brave Swimmers
Zoe and Emily braved the cold river water for a swim.
---
22nd Apr 2017 Baby Wombat!
The girls waited patiently outside of his burrow for him to come and play
---
22nd Apr 2017 Come out come out!
A little bit of encouragement.
---
22nd Apr 2017 Wombat Patting
The wombats were too busy eating dinner to be bothered by nearby small children
---
22nd Apr 2017 Mum and Baby
Just gorgeous
---
22nd Apr 2017 Fuzzy Baby Wombat
---
23rd Apr 2017 Picnic on Upper Kangaroo Valley River Road
Before we were descended on by movie goers
---
23rd Apr 2017 Rainbow at Fitzroy Falls
---
23rd Apr 2017 Granny and Girls at Fitzroy Falls
---
23rd Apr 2017 Chess in the Pub Garden
---
23rd Apr 2017 Kangaroo Valley Kangaroos
---
24th Apr 2017 Shoalhaven Heads Beach Lounging
---
24th Apr 2017 Stunning Seven Mile Beach
---
25th Apr 2017 Walking in the rain
---
25th Apr 2017 Bomaderry Creek
---
25th Apr 2017 A Much Needed Rest
Trying to decide whether to press on or turn back!
---
25th Apr 2017 Harry Potter Puzzle
Emily's birthday present was the perfect activity for Sue's last night
---
25th Apr 2017 One Missing Piece!
Disaster! Eventually we found it on the floor.
---
26th Apr 2017 Bye Bye Granny Sue
---