Foreign Fourens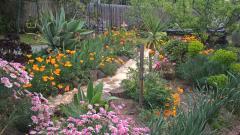 9th Oct 2017 - 10th Oct 2017 - Fourens to UK, France and more
Home sweet home
Well we flew through the night. Caught a movie and tried to get some sleep but had limited success. Our airliner was a Boeing 777 which has a tight seating configuration of 3 aisle, 3 aisle, 3. Having flown on a dreamliner on the way over which is far roomier I think I've become a bit selective. The girls were together on the left window side and I was on the aisle seat opposite with a young couple next to me. I had to be careful not to encroach on any territory outside of my allocation and sleeping upright isn't a specialty of mine. Anyway we arrived at Tullamarine about 1000 and breezed through customs. Mind you Susan made sure I declared a chestnut I'd pickded up in France but the customs officer said it wasn't a worry. We were met by our friend Chris and conveyed home to Rosanna on a cool but sunny day. Arrived home to find the garden aglow with colour: Californian poppies, granny bonnets, daisies etc all in bloom; the fruit trees with new leaves; lettuces and silverbeet thriving in the vegie patch and the chooks glad to see me, although one, Milly, is a bit droopy and malting a bit.
After some unpacking and washing loads Susan, Lillian and I walked down to the local IGA for some lunch supplies while Mandolin caught up with schoolwork on her laptop. After lunch we all had a bit of a nap. Later in the afternoon I was sweeping up in the garden out front when approached by the next door neighbours son in law, Stefan. He enquired if I was the gardener at first (knowing we'd been away) before recognising me as the "owner". He went on to tell me that Morris's house had been broken into that afternoon. It turned out that when we were down the street Mandolin had seen a car go past slowly with loud music, a man get out and go toward the neighbour's house and the car back up the street. This would appear to have been the offenders. After all our time away and on the day we get home a rotten incident like that happens. It's made us all alert and vigilant.
Slowly adjusting to the local timezone but still suffering from jet lag. Nevermind we have had the greatest lifetime adventure, seen and experienced marvellous things and paid honour and tribute to our war casualties. It has been truly wonderful and a very memorable opportunity of a lifetime savoured for all time.
By the way for any of my dear readers who either I haven't told or haven't worked out yet why we were titled the Fourens - It's four 'n's: Allan, Susan, Mandolin​, and Lillian​. So while we were away we were the Foreign Fourens. Until next time, Sayonara, Adios, Chow and over for now.
Diary Photos
---