Our holidays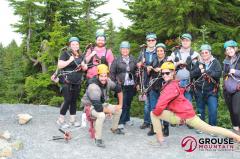 12th Sep 2017
Grouse mountain
I've always been keen to do zip lining, so when I discovered they had a zip line at the top of Grouse Mountain in Vancouver I was really excited. We caught a cab to Canada Place where a free shuttle took us to Grouse Mountain. From there we caught the skyride ( cable car to us ) to the top of the mountain where most of the activities are. We saw a lumberjack show complete with 2 lumberjacks competing with each other on different activities. One being a 60 ft tree climb at an amazing speed 🌴. It was all a good laugh. I'm sure the guys cringe at some of the jokes they have to come out with.
Next was the zip line. Unfortunately Glenn's sister Rae wasn't on the 12.30 session but she did find us just as we were about to zip off . The first zip line was just a baby one, to get us used to it. The second one however, was quite steep & very fast. We were warned to get into ' breaking position' which was arms straight in front holding onto the bar, knees up & chin on your chest. Let's just say I had a free chiropractic adjustment & zip line ride all in one ! It comes to such a crashing halt at the end of the second one, you really want to follow all the rules. The views from the top of the mountain are just incredible.
We also seen a short movie about two grizzly bears that were rescued & now live in an enclosed area at Grouse Mountain. We also seen one of the bears in the flesh.
We made our way half way down the mountain to the Capilano Suspension Bridge, which was also quite amazing. The bridge is 140 meters long & it was quite funny but it was swaying & jiggling about so much that everyone on the bridge looked drunk. As usual the views were amazing.
We took the shuttle back to Canada Place where we had dinner at an Italian cafe. Again I can't say enough about the view. From almost everywhere in Vancouver the view is just beautiful.
I think we will sleep well tonight 💤. Tomorrow to are off on our cruise to Alaska.
Diary Photos
---