Our holidays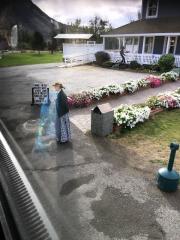 30th Sep 2017
Leaving Sun Peaks
Leaving Sun Peaks . Saturday 30th Sept :
We left Sun Peaks at 8 am after a very poor breakfast. The only choice was a continental breakfast which would have been fine except there was only bread, a few sweet pastries,fresh fruit & some very runny yoghurt for $12.50 !
The trip today is about 360 km, & we are heading to Whistler.
Apparently the entire trip today is through bear country ... so fingers crossed 🤞
We stopped to take some photos of the Sth Thompson River with the beautiful mountains as the backdrop. Terek said we are heading into 'cowboy country'. He set the scene by playing some lovely western music. I must admit it felt like we were on the set of a western movie.
We stop at Hat Creek Ranch where they make the best sausage rolls EVER !! & that's from someone who hates sausage ! Perhaps it had something to do with missing a good breakfast .
After morning tea we head into the Marble Canyon named because of the beautiful mix of colour you see on the sides of the mountains.
We pass a limestone quarry & another pretty lake .
We pass the canyon where the movie River Wild with Merryl Streep was filmed & pass the Fraser river deep in the canyon .
We stop for lunch in Lilooett, a pretty little town and has a population of about two & a half thousand people. The supermarket in town had everything you could want for lunch. From a slice of pizza to other hot savoury items, salads, cakes you name they have it & the good thing is there is a microwave, & throw away plates that you could heat anything up that you like. You can even use the 'washrooms ' 🚽out the back of the supermarket, unheard of in Australia .
With lunch taken care of, we make our way up the mountain towards Whistler.
We drive thru Pemberton which is about 1/2 an hr before we get to Whistler . The price of houses in Whistler are in the millions & unaffordable to most people.
We get to Whistler by 3.30 pm
& the weather is overcast with a little patches of blue sky here & there. The forecast for tomorrow is fine 🤞
As we drive into Whistler we see The Green Lake. It's named that, because of its pretty green colour. On the edge of the lake & in the surrounding mountains, you can see million dollar homes.
We get to the village at 3.30 pm & I can definitely say that everyone was glad to be off the bus. The weather isn't too bad. It's cold but it's ok once you are rugged up & best of all , it isn't raining !
We check into our rooms relaxed, caught up on the blog then set off for dinner. Most of the places in Whistler, are run by 'Aussie kids'
They all have badges with their name & what part of the world they come from. We seen quite a few from Perth.
It's been another long day & we will be glad to fall into bed tonight.
Diary Photos
---