Our holidays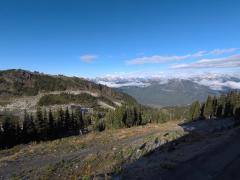 1st Oct 2017
A day at Whistler
A day at Whistler : Sunday 1st October 2017
Today is our second & our last day at Whistler .
The weather is cold outside but the sunshine is promising a beautiful day.
We started with a continental breakfast at the hotel & then made our way over to where the gondolas are. We booked the tour called 'Peak To Peak' where you catch the cable car from the base of Whistler. We chose the car with the glass bottom along with several of our tour members but was disappointed when we discovered that the glass section was only a small section in the middle of the cable car which was fenced off. So you could see the bottom but couldn't stand on a glass floor, which we all looked forward to doing.
Anyway, the view again was indescribable ! To see the tops of the mountains all covered in snow & to look down over the village of Whistler . It was a beautiful sight !
It took a good half hour just to get to the top of Whistler . Then we changed gondolas & rode from Whistler to Blackcomb mountains which took 11 min (4.4 kms).
It was freezing cold up the top with an icy wind blowing but we managed to stay outside for a while & took lots of photos. The view from the top as you can imagine is spectacular . Then it was into the cafe for a hot cuppa & a yummy pastry .
A few people on the gondola including dad said they seen a bear in the distance, ( a tiny black dot on the slopes ) but unfortunately I didn't.
Back down again in the village it was lunch time so after lunch we went for a walk around The Lost Lake. It was about a 15 min walk to the lake & then we walked all the way around & back to the village.
Sadly again, no bears !! We thought there may have been a sighting as we were walking through the forest (on a path of course )but I guess with all the activity like cyclists, joggers, people walking their dogs & people like us just going for a walk there was good chance the bears would stay hidden.
We bumped into a couple from our coach tour at The Lost Lake & we walked back to the village together.
It's been a lovely day, crisp but sunny & very interesting.
Diary Photos
---