Our holidays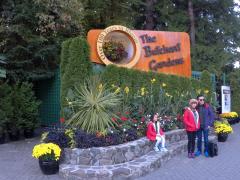 2nd Oct 2017
Leaving Whistler
Leaving Whistler & heading to Victoria Island. 2nd October 2017
We leave Whistler at 7.30 am & make our way to Vancouver to catch the ferry to Victoria Island .
It doesn't take long to come to the built up areas of outer Vancouver . We pass by more beautiful scenery. Mountains & lakes everywhere we turn. We pass Furry Creek Lake . Imagine having these beautiful mountains & this amazing lake you can easily access from the city ! We then pass Horseshoe Bay, which is west Vancouver another beauty & all this is just on the way to the ferry.
We arrive in Swartz Bay at about 1.20 pm . We board the coach & head for the city of Victoria , which is about a 40 min drive.
Our tour for the day is The Butchart Gardens. We are told these gardens are beautiful but you have to see it to believe it. They are so beautiful , I bet everyone wished their gardens looked like that. Immaculate lawns, so many colourful beds of different flowers, a Japanese garden, an Italian garden, hanging baskets in full bloom it just goes on & on. We spent two hrs there & ended the afternoon with a yummy ice cream.
We were then driven around the city so our guide Tarek could show us a few highlights as to where the best restaurants & shops are as well as museums & other tourist spots.
On arrival at our hotel ( Royal Scot Hotel )we were greeted by a Scotsman playing the bagpipes which was a very nice welcome.
Fishermans Wharf was one of the suggestions so we thought we'd try it out for dinner. It was a really good choice.
Tomorrow we will check out the city & some sights.
Diary Photos
---