lushblog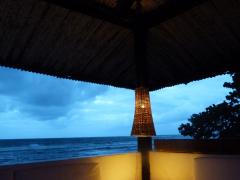 7th Dec 2016 - 8th Dec 2016
Haiti...
so...had my last blog entry not drifted off into cyberspace, i would have gone something like this.....we had a brilliant time, despite the weather. i really did follow the advice of crowded house, and it rained every day. the only day we saw the sun was on the day we left...but did it dampen our spirits...nae danger. we had a lovely time just chilling, chatting, reading, swimming, and sitting on our balcony watching the rain. we ate lobster, drank cormier punch, swam in the rain, went shopping, spent a day looking after a 6 year old, and got caught up in a manifestation...a political demonstration supporting juvenal moise, the guy who won the first democratic elections in haiti for something like 40 years....louis is 29 and this is the first time he has ever voted.
we also, on that front, had to watch canadians posturing because they were un observers...and we got really pissed off because there was a woman, who was a civilian, therefore had no training, wearing a gun at dinner....would that seem ok in an other country...eli went up and gave her short shrift...so she slunk off to her room, and all the other observers didnt swagger about with their guns...but,,,why do they have guns anyway....cap haitian isnt really a place with drug running, drive by shootings, murder, or even burglary. eli and i, when we were leaving, like we had just remembered, got to talking about how there are few places we would stay without using a safe in the room, yet cormier doesnt have them...i never worried about money or passport...i went swimming at night and left the room door open...so did eli...who would have thought one could feel so safe in a country that supposedly is so dangerous.
but here is the rub...and it would have been the crux of my last entry, had it not gone to ether.....as you all know, i now travel on global entry...bloody magic...swing through miami in 5 minutes...dont have to go through passport line and arrived at the carousel before bags had even arrived from my flight...but....but...i dont get my passport stamped, and have nothing to say ive travelled through the us. leaving haiti...they wanted to see that stamp, and also wanted to see my esta....its downloaded onto my passport, so i dont carry a copy...but in haiti, the internet didnt work, and not only was i unable to produce an esta, i couldnt prove i had travelled through the us....so i was pulled aside and grilled...just after i had told eli to go through, as it wasnt a problem.
it was a problem!!!!
one of the major problems was that there was no internet. so i couldnt get into my esta through my email. so,,,the security guard took me into a little room and asked me to log into my email on the big, real computer. i did...yahoo rejected my entry because it was from an unknow location...and then sent a code to another email address..
i havent had this address for years...i tried to explain to the security gal that i no longer had that email, so couldnt get the code....but to her, and email was and email...she didnt get that you could have a redundant address...so back to square zero...
was standing there thinking, im not going to be allowed to leave haiti...cant fucking believe it...
so as a work of desperation, tried to get into my kindle email from homeland security to show the global entry shite...couldnt do that either...but she looked at the fact that i had a mail from them, and then just said..ok. just go through...oh happy day....
when i got into the departure lounge eli was, of course, almost frantic...thinking of how it would be possible to go back through security the wrong way...would they even let you, etc.
thank the lord we went out to the airport early....otherwise, i would still be there...i mean, i really love haiti, but i dont want to live there....
so, as my flying to switzerland tomorrow, lets hope i have no such hassle...cos i dont want to live there either...the most sexist country in europe...yikes.
Diary Photos
---