lushblog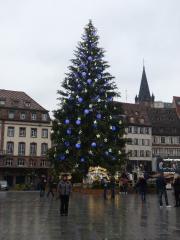 15th Dec 2016
Its beginning to feel a lot like christmas....
even without michael buble.
but what i time i had in france...woo hoo. the airport at basel/mulhouse/frieberg is right on the borders with exits into switzerland, france and germany....it doesnt really get more european than that....and through the french window, i got on a tram to st louis train station, got on a sncf train to saverne, changed onto a minibus to sarrebourg and then got picked up by jo and driven to aberschviller where they live. the last time i was there the house was something of a shell, and jo and i slept on the floor in the living room in front of the stove. this time...well, its just lovely. the stove, which is tiled in blue, is still there, but there is now an aga in the kitchen, fantastic wet-room rain showers, comfy beds, amazing wood everywhere, and the garden is fantasticly wild. aberschviller is a really pretty alsacian village with timbered houses, artisanal butchers and bakers, and a supermarket with more types and aisles of cheese than i have ever seen anywhere in the world. i was in fromage heaven. and that lasted all the way home as we had raclette 2 nights running as it was so yummy. for those of you who do not jet set off to eat cheese in foreign countries on a regular basis, let me tell you what raclette is....kinda the opposite of fondu, a raclette maker is just a toaster for cheese with little metal slides which you place the cheese on under the heat, and then pour it over whatever you want...bread, potato, apple, you name it. you can get about 30 different kinds of raclette, but we chose a mature one and one full of pepper...god it was delish...so delish in fact that i have looked up the grills on amazon.
not quite certain what has happened to my font, but think i like it, so no messing around. so...we went to strasbourg on my birthday and sniggered at the christmas markets, almost made the mistake of going into the cathedral for mass (you arent allowed to leave until its over...yikes), and walked at a snail pace around the little windy streets because it was so packed it was on a scale of edinburgh during the festival, but in winter-wear. as you can see from these photos, the decorations are pretty impressive, and its hard to argue with the world biggest christmas tree, and giant teddies, penguins, polar bears, santas or singing reindeer ornamenting every shop and restaurant. we drank coffee, we ate pain au chocolate, we drank riesling from iconic green-stemmed alsace glasses, i bought a load of christmas tat for my staff's christmas, we were served by waiters in black waiscoats and white aprons to their feet, and the sun came out. it was just a lovely, lovely day. who would have thought you could have known someone for almost 40 years (next year, scarily) and still have so much to chat about you cant be bothered going to bed. well...until you get there, then its the greatest invention of mankind, and you will do anything to stay there as long as possible....or is that just me.
would just like to also mention, that i now have my youngest facebook friend....rhiannan ballingall...i was delighted that someone so hip that she goes out with bare ankles under her skinny jeans, in december, would deign to have an old dame like me in her friend list, but there you are. its hard not to respect a teenager that brings out a c grayling to read on a train at 10am on a sunday! what a lassie.
and then...hahaha...the journey home...well now!
bought a train ticket, all prepared, jo dropped me in plenty of time...walked into la gare....ooops. no trains on the 'depart' board for an hour. went to le gichet...mmmm...about 10 other people there, all been sold tickets on the imaginary train that went at 09.55. next train was 10.55 and only went to strasbourg...not enough time for me to transfer to st louis for my 13.45 flight...so i did the only thing i could...i called jo and asked her to return to sarreboug when she was almost home, and drive me a round trip of 5 hours to switzerland!!!! and...thank the lord she did. felt like a total shit, but what else could i do....i love you jo smith!!!!!
and on a similar note....also had the worlds worst airport experience leaving haiti....
ok. so now i travel through the global entry thang...dont have to wait in line for customs or to get through passport control, just swan through, but dont get my passport stamped either. so, leaving haiti...they asked me for my esta...its linked to my passport, but the computer system was down...and then they started looking for my us stamp...of course i dont have one. told eli to go through,.thought i would just be a minute...but they wanted me to show them my esta...so i looked into my email...no wifi...so they took me into a little room, and let me use the airport computer...of course when i tried to get into my email, it wouldnt let me in because it was from a destination it didnt recognise, so it sent an email with a code to the last email address it had on file...one i havent had for about 5 years. tried to explain this to the french speaking security woman...she kept saying cest ne pas un problem...ooooo...uuummmm. nest pas un problem, cest le catastrophe....then i tried to get into the global entry site...she could see i had mail from homeland security, but for the same reason as above, i couldnt access the mail...thank god we arrived at the airport early, but with 30 minutes left to get my flight, i was thinking that i would have to call my work and tell them i was stuck in cap haitien.
at that moment...she said to me...ok, cest bon...vous allez....
when i got through, which i have to say, since its cap only took about 4 mins....eli was, of course, a wreck. she didnt know what to do...and in the words of the clash...should i stay or should i go...but then, if i was stuck there would they have allowed her to go back to the land side...luckily we did not have to find out...and made it to miami where we left the airport for an hour or so to sit in the sun,,,something we didnt see very often in haiti...
one thing no one can ever accuse me of...having a boring life...hahaha
Diary Photos
---