lushblog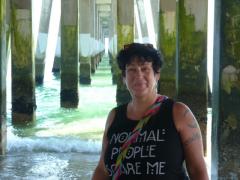 3rd Sep 2017
The longest journey!
ok, before i start gushing...im starting with the baaad things.
1. when we were out for dinner in chattanooga there were loads of fire engines and cop cars going by the restaurant. didnt really think much about it till we started walking back down the road, and realised they were outside our hotel. it had been evacuated and there was police tape everywhere. we were not allowed in even to get things out of the car, so went out to a bar. because we had just been out for dinner, i didnt have any id...so they wouldnt serve me. happy happy joy joy. we were told later that some dude had been cooking meth in his room...dont know if its true, and never will. next morning the staff acted like nothing had happened.
2. bill and i took over 2 days to get home. not going to harp on...oh, ok, i will...we were congratulating ourselves as we got through security etc in a jiffy (of course i have TSA clearance, so can shimmy through)..but actually bill got stroppy with the security because she told him to take off his shoes...'im over 75, i dont have to' was bills retort, causing much humour, as she didnt believe him! anyway.....through done and dusted! HAHAHA! an hour after our flight was due to leave we were still in the bar...the flight still wasnt on the board as delayed, but, of course it was...for hours and hours. 3 hours after the takeoff time, there was a message saying that due to an electrical fault, it wouldnt be leaving till midnight at the earliest, and might not go at all. so i decided that we would hedge our bets, given that if it didnt go at all, every single passenger would need another flight, and changed ours to lunchtime the next day via charlotte and JFK. so....just needed to pick up our bags, and head back to elis apartment...NOT!
bills bag went missing, and we didnt get it till 1.30am.....so, we decided just to stay in the airport, given that we had already been there for 6 hours...we spent the night in the only open place...starbucks!!!! happy happy joy joy.
at 3.30 the desks opened, and we checked in...whizzed through everything...go to charlotte, and JFK...no bother. we were a bit concerned as we only had 1hr20 to go get our edinburgh flight....but THERE WAS NO SECURITY!!!!! we breezed it. went to have a drink to celebrate....then noticed they had changed our gate...mmmmm! who would have thought lightning would strike twice...the plane had an electrical fault!!!! now due to go at midnight, when a flight came in from miami, and we took their plane. so...back to the bar....to cut a very, very long story short....we eventually left at 23.30 (kim thats 11.30pm) and in a tiny plane with no entertainment, in which i fell asleep before the drinks trolley came round (goddammit!) we got home. but.....hahaha, yet again...bills bag didnt! so another desk, another queue, another wait! fuck me dead!
when we got home we hadnt slept in a bed for 2 nights, hadnt showered for 3 or brushed our teeth for 2!!!! we prpbably looked like homeless people! and i have to say.....bill you are a total brick. we both got a big jumpy now and again, but ive done all this before. bill, not old, but vintage at 84, spent his first ever night in an airport, didnt get furious when his bag went missing for the second time, and was nice to everyone. however i realised he was a bit stressed when he had 2 beers in JFK...dont mean to paraphrase 'airplane', but bill never has 2 beers at home!!!!
Diary Photos
---