Stuart & Jade: Adventure Time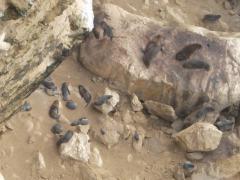 3rd Jul 2010 - 8th Jul 2010
"Hop inside my mouth if you want to live"
Our tour to the Ballestas Islands turned into a tour not of the Ballestas Islands, but of the Paracas National Reserve instead. The bastard fishermen were blocking the dock and stopped the entire tourist boat fleet from leaving to get to the islands. After jumping back in the bus we were whisked to the reserve to view the only 'Nazca Line' outside of Nazca, the giant Candelabra etched into the cliffside in the reserve. From here we were taken to numerous sites including lagunas where we saw many pink flamingos and a view point where we could look down upon lots of baby sea lions playing on the beaches and rocks. We also saw lots of huge pelicans just like Finding Nemo's Nigel.
Although the reserve was stunning, surrounded by huge sand dunes and crammed with wildlife and such, we still felt a bit robbed (even though we paid less than most people on the tour) so when we had all left to go our separate ways at the end Jade and I went back to the tour agency and demanded some money back. Realising that having a couple of disgruntled gringos standing inside the office was bad for business they grumpily gave in and returned some of our cash.
That night we ate some traditional peruvian dishes from street stalls around town. The second one we visited was by far the most interesting. Several wooden tables set up at the side of a grimey unpaved road, with the cars wizzing past just inches away while the chef cooked up cows heart kebabs on a hand made grill, delicious!! We guessed that the poor lady probably lost her restaurant/cafe in the earthquake and had managed to salvage her tables and a few chairs and so just decided to set up in the road.
Next day we were due to stop in Chincha for a night, but after arriving and looking for an open hostel we were wandering with our bags about 50-60m from the central plaza when a friendly local approached us and said "what are you doing here? you really should go back to the plaza. this town is not safe!" Upon hearing this we decided we had seen enough and jumped on the next bus to Lima; to be honest it wasnt all too disimilar to Pisco with a lot of earthquake damage.
We had heard mixed things about Lima before we arrived but we have actually found it to be ok. The whole city is draped in a thick grey cloud and mist for 8 months of the year and so is a bit depressing upon first glance but at least we arent getting sunburned any more! Sunday afternoon we found an awesome place to stay. Basically a woman has opened her flat to backpackers with three rooms each with 3 sets of bunk beds, we can use her kitchen, computer, living room, huge tv, phone, etc and its by far the cheapest accomodation in Lima. Miraflores, where we are staying is quite nice, but crammed full of tourists.
Monday we took our first trip to the embassy to get Jade's passport sorted and then wandered through some parks and along the sea front. Tuesday we spent finishing off the passport formalities and going to the cinema, and yesterday we spent exploring Central Lima, visiting the Museum of the Inquisition and the San Francisco Monestary and Catacombs (containing the bones of 25000 dead people!). Visited a big ancient pyramid today, was a bit dull, and are off for an all you can eat buffet later before boarding our bus to Huaraz.
Diary Photos
---