Another Idiot Abroad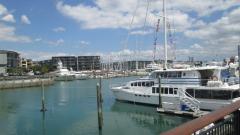 27th Feb 2013 - New Zealand
Last night in New Zealand
Cracking last full day here. Had to be up early to log on to check in for my flight from Hong Kong to Heathrow and particularly to reserve my seat. Wanted to make sure I wasn't parked next to the toilets, there are some seriously smelly people out there.

Had a trip to a sea world centre, where they have an amazing penguin colony and sharks too. Then on to the Sky Tower. Highest building in the Southern hemisphere. No point in trying to describe either as can't do them justice. Hoping the photos will though.

Got talking to a Singapore expat in the park who had a rage against all the Chinese coming to New Zealand and then went into a deep depression about the state of the UK economy. "Don't let the PIGS drag you down," he said. That's Portugal, Italy, Greece and Spain apparently. I promised him I'd do what I can, but that it would have to wait until I was back at work on Monday. Blimey, I'd just planned on checking my emails, doing a bit of reporting and boring people about my holiday. Now I have to save our economy somehow. No peace for the wicked.
I finally had a chance to speak to some of my Filipino neighbours at the hotel and found out that they were here for the mens World Softball Championships. That's Baseball to our American friends, but lets face it, at the end of the day, it's rounders and it's a game for girls. Not that I was going to say that to them, they seemed good guys and I wished them well for the tournament.

Last thing to do before packing is to plan the trip to the airport and then it's 'homeward bound', as Simon and Garfunkle once said. Sad times.
Diary Photos
---