Another Idiot Abroad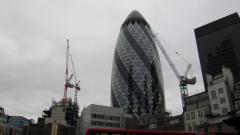 1st Mar 2013 - New Zealand
Home Sweet Home
Back in Blighty at long last!

Landed at Heathrow at just after 6am and could have been down even earlier had the driver been able to find a parking spot and not had to circle London several times. Just as congested up in the air as on the streets of London. Sat next to a guy from Cambridge on the flight, who was returning from a conference in Southern China. Top man. Turned out he'd played for Histon FC and also scored 110 goals in 150 games for Somersham Town in the ECL. Good skills!

Had plenty of time to kill in London, even after some quality sausages at an airport café and after severely peeing off a lot of commuters by dawdling around the underground with my suitcase and rucksack, as I hadn't booked a train back to Norwich until 3pm. At least they didn't have to put up with a repeat of my failure to negotiate the ticket gates this time. All about learning from your mistakes, this travelling lark.

So nice to see all the smiling faces in the capital. Knew I had to remember that rather than a nod and smile to everyone you come across as you do in New Zealand, it's best to avoid eye contact with people back in London for fear of at the very least an unfriendly scowl, and at worst a potential stabbing. The temperature soon reminded me of where I was though, having been used to it being at least 20 degrees Celsius warmer.

Thought I'd play safe with the train booking in case of delays, but needn't have bothered as I didn't have a single delay in three weeks of bus trips, train journeys and flights. That has to be some kind of record doesn't it, especially as there are two Greater Anglia trips included. Even Judith Chalmers couldn't have managed a trip as smooth as that. I'm putting in down to my planning and organising skills.

At least this gave me a chance to catch up for a couple of lunchtime beers in London with Hamish and Gary Gannon, neither of who took too much persuading, even at short notice.

Absolutely shattered now but determined to get into my usual sleep pattern and hopefully the other 'functions' will get into routine soon after. We'll see how that 'pans' out!

Just also uploading some more photos, which I hope do New Zealand justice.

Time for bed now. Will probably post some thoughts about the trip tomorrow to finish.
Diary Photos
1st Mar 2013 Back in London
---
1st Mar 2013 Back Home - Thorpe Station
---