Another Idiot Abroad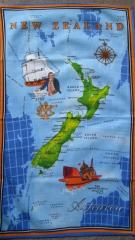 2nd Mar 2013 - New Zealand
New Zealand - What a country!
Had a great night's sleep. Well wrapped up and thermal socks on and so time to reflect on a great holiday.

Huge thanks to the people who made it so memorable, in particular Steve and Colina who put me up for three nights in Tauranga and showed me the local sights. Also to Si Gray and family and to Robbo who were all great company for some of my time in Wellington, Napier and Auckland. Hope you all have a great time for the rest of your spells in New Zealand.

I was also so lucky that all my plans worked out and that the transport and weather all played ball. Seven flights, seven rail journeys and four bus rides and every single journey arrived on time; just two days of cloud and temperatures above 22c every day.

And of course, 2-1 wins for England in both the T20 and ODI series.

A few reflections on the cultural differences and memories of New Zealand:

The people are incredibly friendly and rightly very proud of their Country. When you ask anyone for directions they will not only show you the way but more likely take you to where you're going. Happened twice to me in Wellington. You'll often find that you wont be on your own for long in a bar.

Kiwis like to buy their beer in jugs and pour their own drinks into their half pint glasses. Presumably the result of an inbuilt antipodean calling to eventually become barstaff in London.

Kiwis don't do rounds. Really strange that whether they're in pairs or groups, they prefer to go and get their jugs of beer on their own. Hence, there is no word in Maori for 'kittymaster'.

In NZ you need to arrive for your plane, bus and train journeys on time. Despite being laid back, New Zealand doesn't seem to do late.

In Wellington there is still a skateboard craze, in Auckland they prefer scooters. Napier has no-one young enough to have ever been into either.

The Kiwis stick everything in a pie. Nightmare trying to buy sarnies in some places. It's a pie or nothing.

You wont see too many Kiwis dying due to stress, but there's a good chance that excessive salt intake will see off a good few of them. They stick a mountain of the stuff on your chups, where ever you go, whether you want it or not.

Like the Aussies, the Kiwis call us Poms or Pommies. However, unlike the Aussies they do not prefix it with 'bloody' and follow it with 'bastard'.

TV in New Zealand seemed mainly fairly awful, other than the breakfast show. Had to watch egg-chasing on Maori TV one day due to the lack of choice. It's also packed full of adverts on every channel. Even Neighbours had four ad breaks in one episode. Not sure how far ahead of us they are but I can't believe that Karl is still chasing after Susan. Leave it man, you can do far better anyway!

Barely ever heard any sirens out in New Zealand. A couple in Wellington, none in Tauranga and Napier and just a few in Hamilton and Auckland. Very few police about anywhere. Always a good sign and a very safe feeling where ever I went.

Didn't see any dogs mess in all my time out there. Every dog walker I saw had a bag for clearing up and parks also provide these. What a contrast to the UK. Also, didn't see any of the aggressive looking hounds everyone over here has these days. Dogs in NZ still seem to be pets rather than a statement of some sort, or the means for claiming benefits.

Without wanting to sound like the New Zealand Tourist Board, this place is just amazing. If you have, or have ever had any thoughts of going, stop thinking about it and do it. You won't regret it. There really is so much to see and do, you can spend as much or as little as you like for accommodation and where ever you are you can get a good cup of tea.

It's a long way to go, but it really is worth the trip. Just have a look at the pics if you don't believe me and that's just scratching the surface of the North Island

Anyone up for the next Cricket World Cup in two years?
Diary Photos
---