Another Idiot Abroad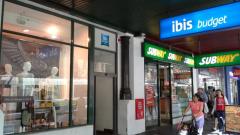 4th Mar 2015 - Australia and New Zealand




Time to come home



Quick update from the airport while waiting for the long ride home.

Just had a great last couple of days in Melbourne. Shane Warne was on our plane up here from Wellington. He sits in cattle class as there's no other option, but he did appear to have his own stewardess and when we landed I didn't see him at baggage collection waiting to pick up his hair products.

Had a decent little hotel, again next to a Subway. In fact you'd do well to find anywhere here that isn't next to a Subway, they're the Aussie equivalent of Tesco. Word from the wise, don't use Subway as a landmark when telling your taxi where to take you, it will cost you big bucks.

Took in some typical Aussie tv last night. Not saying they're behind the times, but Taggart, followed by Mork and Mindy should give you an idea. Not surprising then to see the breakfast show hosts this morning getting excited about upcoming Australian tours by Village People and Rod Stewart. Looks like Village People are one of those bands like Trigger's broom though, not much of the original left.

Interesting story on the news last night about the huge number of accidents between trams and pedestrians in Melbourne. I've already pointed out that traffic islands in the middle of a busy street rather than trams is clearly a safer option, so it didn't surprise me. What was a surprise was that I didn't appear in their montage of near misses. They also had a feature on Melbourne having it's own version of Monopoly. As always the novelty will soon wear off and they will again realise that it is the dullest, most pointless game ever invented. The only excitement is landing on 'Free Parking' to collect the fines from the middle of the board and that's not even in the official rules!

I did have a tram ride yesterday for a trip to Melbourne zoo. It's the oldest in Australia and third oldest in the World. Another excellent place. Highlight was after taking five minutes to finally get a little chap to acknowledge the 'turtle' he was looking at was actually a giant tortoise, his mum comes over saying "Ooh Oliver, look at the big turtle. " Ho hum!

Well, looks like nearly time to board. Hoping for a trouble free flight and another City win while I'm up in the air......



Diary Photos
---