Another Idiot Abroad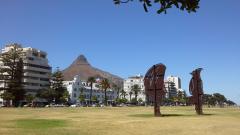 17th Feb 2016 - South Africa
Safari so good at Aquila and Paarl.
We're well settled in to the Spring Tide Inn now and it's a decent little place. Far quieter than the hostel and we also get a breakfast here. I don't know how South Africa rates it's holiday accommodation, but I feel it may be by coat hangers as we've moved up from three hangers in our room at Sunflower Stop to four hangers here.
We were due up at an unearthly hour yesterday for our mini safari trip to the Aquila Game Reserve, but we managed it. Just as well as our minibus was bang on time. It was pretty much full already and all from one family. They were from Wealdstone, but were not as trappy as you normally get from that neck of the woods and were a decent bunch to be travelling with. They also knew Norwich well as one of them was a UEA graduate (second one I've met this week) and they also regularly holiday at Wells and love Norfolk.
The trip was about two and a half hours, but was a good one and there was a glass of bubbly waiting for us on arrival. There was also a very welcome and much needed 'pit' stop half way. That's basically rhyming slang in case you're wondering. There was then an excellent buffet breakfast before getting into the trucks for the safari.
First thing we saw were the three hippos, or more accurately, a very small part of each of them. They're not known for showing themselves off and there's a good reason you don't see them winning any medals for synchronised swimming.
The elephants were much more accommodating and a pair of males walked right across in front of us. Our excellent guide Tyler told us that these were two males who were waiting to have some female company for mating and were currently so frustrated that they had pushed over more than 50 trees in the last few weeks to get rid of some testosterone. They were also being kept apart from the rhinos as they are currently right up for a scrap. We were therefore pleased when Tyler stopped talking and moved our truck out of the path of one who had made a beeline for us. Happy to say that they will soon be filling their boots as four females are due to arrive from Kruger in the next week or so apparently.
There were sightings of some of the rhinos, springboks and wildebeests before entering a segregated section with the lions in. Although it's not the full safari experience, it was still good to be able to see lions so close and in a natural environment and worth the trip on it's own. A buffet lunch was also provided before the trip back to Cape Town.
It was a good day of leisure today after a fine breakfast cooked by Jean at the hotel. This morning she was reminiscing about the Sampson and Hercules ballroom between cooking eggs and pretty much ordering us to eat the fruit and the onion bread.
We had long planned to go to the T20 warm up game at Paarl, which was due to start at 2:30pm against a SA Presidents XI and we were hoping to get a train there and back. However the game was changed to a 6:00pm start against South Africa 'A' therfore taking the option of the train out of the equation as it's not safe. Boy were we glad of the change. We had arranged for one of our excellent taxi drivers from earlier in the week, Steven, to take us and the outside temperature gauge on his dashboard rose and rose as we got further inland, topping at 104°F. Heaven only knows how hot it would have been earlier. We made a stop at a prison just outside Paarl where Nelson Mandela was transferred to after Robben Island at Kingy's request and Steven was also pleased to see the statue there for the first time.
At the ground we bought Steven a ticket for the game so he could join us. Also not a bad thing to know that your driver will still be about at the end of the game, not that he would leave us stranded as he's a top man. Paarl is another fine setting and has a very decent little ground. England cruised to victory with Alex Hales continuing his fine form and Morgan also impressing. The fielding was also top class with some excellent catches.
The champagne moment of the day however did not come from a cricketer. That honour belongs to Kingy from our visit to the outdoor pool earlier. I'm still not sure what he was actually trying to do on his sunbed, but it was definitely defying all laws of physics and as gravity took effect a massive cracking sound echoed around the pool area. Kingy was face down in the dirt and the end of hs sunbed was as limp as a lettuce. It was a genuine 'Terry and June' moment, but was actually funny. Kingy then received the third degree and a replacement bed, together with a lesson in operating the equipment from the hirer. It initially looked like some expensive compensation would be required, but Kingy eventually smoothed things over with an out of court settlement. I think he's seen enough of the inside of a court! Can't help thinking that Kingy may have difficulty in hiring a deckchair when next on Yarmouth beach as word will surely get around the beach equipment hiring community.
Another good day out is planned for tomorrow, down to Cape Point and some nice places on the way. Looks like some penguins may be starring here soon.....
Diary Photos
---