Another Idiot Abroad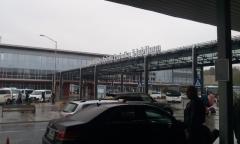 27th Apr 2017 - Slovenia
Heading East.....
After a few long haul trips to the southern hemisphere in recent years, I thought it was about time I had a closer look at continental Europe, rather than just fly over it and deliberately use the toilet over France as is the norm.
The first Speedway GP of the season at Krsko looked like a decent opportunity to take on a new country, so Slovenia it is. A couple of nights in the very picturesque capital Ljubljana were included to make it a worthwhile trip.
I've been lucky again in that the travel plans have have so far gone well, with just a very short delay on the train to Stansted and although the flight left 15 minutes late, our driver was able to put his foot down​ and land bang on time. Good skills captain! Having said that, he doesn't have to put up with the chaos caused by a swan on the road like in Hazard County this week.
A few interesting characters on board, including a woman who had a full blown panic attack half way through the flight and needed oxygen! There's also a whole​ rugby team on a stag weekend, all dressed fetchingly in pink, and an organised party of people from all over the UK, all also heading to the Speedway on Saturday. Has to be said, they are a rum old bunch, but fortunately they do at least appear to have a better understanding of personal hygiene than your average punter at a meeting at Kings Lynn. Last but not least we were joined by Wolves' Swedish rider Freddie Lindgren, who is back as a full time GP competitor this year. Seems like a good bloke.
Ljubljana looks like a nice place, even in the downpour that no doubt followed us from England. I've got a guest house that overlooks the river and is just 100 yards from the iconic dragon bridge, which is turning out to be a massive bonus when trying to locate it after going out. Although the Slovenians generally speak very good English, their Slavic road names don't exactly slip off the tongue, so asking directions wouldn't have been straight forward.
Trying to decide now what to do tomorrow. Could be a trip to Lake Bled, or to the caves at Postojna. They are Slovenia's most famous tourist attractions, but a tour of Ljubljana is also an option. Could all be dependent on the weather.
A quick fact about Ljubljana to finish with - You'll all no doubt already know that the World's oldest musical instrument, a flute made from cave bear bones some 55,000 years ago, was found in Slovenia, but you probably didn't know that the oldest wooden wheel in the World was also found right here in Ljubljana marshes. It's estimated to be around 5,200 years old. I'm just puzzled as to why they didn't find the other three!
Diary Photos
---