Another Idiot Abroad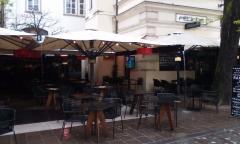 28th Apr 2017 - Slovenia
Ljubljana - wetter than a fish's wet bits!
Ljubljana is a stunning city, but I can't help thinking today that it could seriously benefit from having a roof!
It was raining when we landed at ten past four yesterday and it just carried on relentlessly throughout the night and well into this morning. A look at today's forecast didn't inspire much hope either, with heavy showers all day and just a window of 'lighter rain' due between one and two in the afternoon. That put paid to my plans of visiting Lake Bled and a trip to the caves didn't work out either as the recommendation was to book well in advance. The walking tour of Ljubljana at 11am didn't appeal either as with only a carry-on case my wellies didn't make the cut when I was packing.
So, a trip to the Ljubljana City museum was the first stop. A decent place and welcome respite from the weather and also the massive bonus of actually seeing the oldest wooden wheel in the World! Unfortunately no-one was able to tell me what happened to the other wheels.
Next up was a trip up to Ljubljana Castle which overlooks the City and offers spectacular views, particularly from the tower. It also has a good virtual tour detailing the history of the castle as told by a dragon! Just as importantly it was another good source of shelter from the elements.
At about 1pm the rain finally abated, but not before I had to give in and buy a brolly, much to the amusement of the market trader who sold it to me. He had brought a shed load of them out today having seen the forecast, but says he didn't reckon on selling one to anyone from England!
It's been a shame that the weather has been so poor as Ljubljana clearly has a nice outdoor cafe culture. I took on a panini type lunch and there's a couple of observations to make about Slovenian lunch. Firstly, no-one will ever burn the roof of their mouth eating here. They don't appear to do hot. Secondly, I very much doubt any pigs are harmed in the process of producing Slovenian bacon. It's a bit lacking.....in meat!
I took a walk up to the rail station this evening to check the train times for getting to Brezice tomorrow. The staff there are incredibly helpful and are there until! 9:30 in the evening. I thought the €10 each way from my research was already reasonable for a journey of nearly two hours, but the lady on the desk found me a deal of a return ticket for just 12 bucks! Good skills!
I popped into the English pub on the way back for a quick pint. It's run buy a Slovenian guy who is in and about everything British and by as all sorts of memorabilia plastered all over the walls. A little awkward then when six German guys came in to the bar to be faced with pictures of Spitfires, Hurricanes and Winston Churchill wherever they looked! As usual though, all they were interested in was the football stuff. Always surprises me why there is still a foreign obsession with the English Premiership when the top sides in continental Europe are clearly superior.
It's off to Brezice tomorrow for the Speedway GP just a few miles away at Krsko. Here's hoping we've seen the last of the rain. Once it stopped at lunch time it was t-shirt and shorts weather for the rest of the day. More of that is needed tomorrow....
Diary Photos
---