My many short trips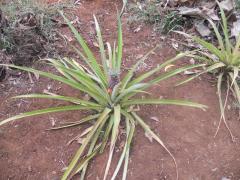 27th Aug 2011 - 30th Aug 2011 - Kenya & Tanzania
Zanizbar
Our final morning on mainland Tanzania, we got a transfer to Kilimanjaro International Airport. It's really not as grand as it sounds! We caught a small propeller plane over to the spice island of Zanzibar. The views as we came into land were amazing – small coral patches scattered out over the ocean. Technically, Zanzibar is the name for the whole archipelago and the island we were staying on is Unguja, but everyone refers to Zanzibar as the main island. We were staying at the North end of the island, in a small village called Nungwi. It was going to take us around an hour to transfer there from the airport. En route, we stopped at a spice tour. Zanzibar, until very recently, was independent of Tanzania and was a big player in the slave trade and the export of spices. Although the spices no longer dominate the economy (90% of people on Zanzibar work in tourism), there are still many spice plantations dotted around the island that you can visit to learn about the spices and see what they look like before they arrive in your kitchen. We saw black pepper, tiny pineapples, red bananas, vanilla, cinnamon, cloves, lemon, cardamom, lemongrass, jack fruit, nutmeg and lipstick tree. This is a tree whose fruit produces a vivid dark red paste that you could paint on yourself. One of the guides then scaled a coconut tree and cut down 2 coconuts for us to drink the milk.
Following the spice tour, we drove the rest of the way up the island to Nungwi, where we were greeted by white sands and clear blues seas. Just like the photos and just what we needed following our Kili trek. Our accommodation was a small bungalow, with veranda, just 30 seconds walk from the beach, next to a swimming pool. First stop, after dumping our stuff, was of course to hit the beach, find a bar and have ourselves a cold beer. The evening was spent watching the sunset and then having dinner of fresh prawns and fresh fish.
The next day was so very, very busy! We got up and had breakfast served to us on our veranda – lots of fresh fruit, bread, eggs and juice. Then we had a hectic morning of lazing around the pool, relaxing, taking a dip and reading. Such hard work. Mid afternoon, we took a stroll along the beach and had a cocktail, followed shortly by dinner. Back at the room we played some cards. It was truly a very knackering day!
The next morning, missing those ridiculously early starts, we got up at half 5 and headed down to the beach. The sun was just coming up and we got some amazing photos. Being right at the North tip of the island meant we could clearly see both sunset and sunrise. There were lots of little fishing dhows along the beach and at around 7 they started coming ashore and bringing the morning's catch with them. The first few were bringing what we thought to be decent sized fish with them. However, these were followed by marlin so big that in one case it took 10 men to drag it up the beach and put the smaller fish to shame! At the top of this section of beach was a small hut which operated as an auction house and where the fish were sold, presumably to owners of the beachfront restaurants. The whole setup was quite an impressive sight. Back at the hotel, we breakfasted then had a short nap to compensate for the early start. Then it was back to the pool to continue with the reading and relaxing. After lunch we took a slow walk up the beach to a turtle sanctuary, home to lot of green sea turtles. We spent some time with them and got to hold some baby turtles. The evening followed a similar fashion to the other nights, in that we had a beer followed by a fresh fish dinner at a beachside restaurant.
Our final day of holiday saw us having another early start! This time after breakfast we caught a shuttle back down the island and stopped off in Stone Town where we were going to do a short walking tour. The area is known as Old Town to the locals but as Stone Town to tourists and is a maze of narrow passageways, famous (apparently) for its doors. It is also where Queen front man Freddie Mercury was born and lived until he was 8 although no one knows for sure which house was his. The tour started at the site of the old Slave market. All that remains are the holdings cells as the rest of the site has been converted in part to a hostel and in part to an Anglican cathedral, which includes a crucifix dedicated to David Livingstone and is in fact made out of the wood of the tree that Livingstone's heart was buried under. We walked round the streets, stopping to admire the doors. They are based on Indian doors and have many large spikes in them. These spikes are there to protect from charging elephants. We also saw Jaws Corner, where men come to set the world to rights, and the Old Fort. We had lunch in a small restaurant on the seafront and then it was time to say goodbye to Zanzibar, goodbye to Tanzania and goodbye to Africa as we flew from Zanzibar to Dar es Salaam to Doha and finally back to London.
Diary Photos
27th Aug 2011 Zanzibar Spice Tour
Pineapple
---
27th Aug 2011 Zanzibar Spice Tour
Vanilla
---
27th Aug 2011 Zanzibar Spice Tour
Nutmeg
---
27th Aug 2011 Zanzibar Spice Tour
Scaling the coconut tree
---
---
---
---
28th Aug 2011 Zanzibar
Out on the reef fishing
---
---
---
---
29th Aug 2011 Zanzibar
Over 10 people to pull one Marlin up the beach!
---
29th Aug 2011 Zanzibar
Turtle sanctuary
---
---
30th Aug 2011 Zanzibar - Stone Town
Anglican Cathedral that sits on the site of the former slave market
---
30th Aug 2011 Zanzibar - Stone Town
One of the famous doors
---
30th Aug 2011 Zanzibar - Stone Town
---