My many short trips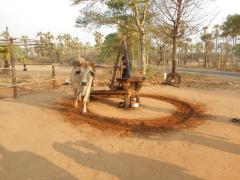 29th Mar 2015 - 30th Mar 2015 - Burma
Kalaw
The Burmese language is very round in nature, as opposed to the rectangular nature of letters in most languages including English. Traditionally the Burmese people wrote on palm leaves which have horizontal grooves. Because of this, they had to adapt their letter style to work on the leaves and consequently, the Burmese writing became curved. It's amazing what you learn at 7am whilst stopped at a toddy palm farm to see how rum is fermented!
Our next stop that morning was at Mt Popa, a favourite place for nat (spirits that either protect or harm humans) worship. The hill is a 2,418 ft high volcano rising high amongst otherwise fairly flat ground. Atop is a temple accessed by 777 steps. We stopped at a view point for the hill, before approaching the main hill itself. The majority of the 777 steps have to be climbed bare foot, but the steps are covered from the elements. It has to be said that whilst the viewpoint was lovely, once we got to the top of the hill and the temple itself, we couldn't help feeling a little underwhelmed.
Our destination that evening was the former British hill station of Kalaw. The houses in the town definitely had a British influence and this was the first place where we saw an abundance of churches, a nod to its past life. We also came across one of the most random bars I've ever known – two rows of seats down either narrow side of the bar, only 3 drinks served (rum sours, gin sours or whiskey sours) which all tasted the same and locals with a guitar singing what sounded to our untrained ears like the same song over and over!
The main reason for visiting Kalaw is to go trekking as this is one of the few places where tourists are allowed to trek overnight without Government permission. Whilst we weren't going overnight, we were going trekking in the hills and amongst the surrounding villages. The route took us between nearby villages, home to the ethnic Palaung people, and through their farmland. We passed fields of garlic, meadows of onions and rivers of cabbages. In the villages were sacks of tea laid out to dry in the sun. Back in town we took a closer look at some of the colonial houses plus the local train service!
Diary Photos
---
29th Mar 2015 Bagan
Rum distilling
---
---
---
---
---
---
---
---
---
---
---
---
---
30th Mar 2015 Kalaw
Tea leaves drying
---
---
---
---
---
---
---