My many short trips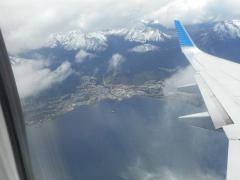 14th Dec 2015 - 15th Dec 2015 - Patagonia
Ushuaia
Affectionately termed "Fin Del Mundo" or "The End of the World", Ushuaia is the southernmost city in the world. This is slightly debated by Chile, whose town of Puerto Williams is across the Beagle Channel from Ushuaia, but given the latter's population is just a little over 2,250, they really are pushing the boundaries of the word "city". Ushuaia is situated within the province of Tierra Del Fuego, with the Martial mountains to the north and the Beagle Channel to the south. Being as far south as it is, Ushuaia is the most popular departure point for those heading to Antarctica, sadly not us!
We flew in from El Chaltén, sadly without quite the same views as our last flight, but still with good views of the mountains as we were landing. Everyone's number one priority was to head to the Visitor's Centre, where you can get a free "End of the World" stamp in your passport!
We were here to do lots of animal viewing, the first of which was over to the Harberton Estancia where we visited the penguins. The colony here is a mixture of Magellanic and Gentoo penguins along with 3 visiting King penguins. The Magellanic penguins are nest builders, whilst the Gentoo are burrow diggers but they all live happily side by side on the same beach. We spent an hour hanging out on the beach with the penguins and their babies before heading back to the main estancia to visit the rather odd museum – one small room with a few skeletons, yet apparently we needed a guide!
That afternoon, our second animal experience saw us doing a Beagle Channel cruise during which time we saw plenty of cormorants and sea lions. We also saw the "famous" End of the World Lighthouse, the image of which is used on many things relating to Ushuaia. However, the problem is that the lighthouse we saw wasn't actually "the" lighthouse, it's just the closest one to the city meaning it's the easiest to get to and therefore easy to lie to the tourists about!
Diary Photos
14th Dec 2015 Flying into Ushuaia
---
14th Dec 2015 Flying into Ushuaia
---
---
---
---
---
---
---
---
---
---
---
---
---
---
---
15th Dec 2015 Ushuaia
Beagle Channel
---
15th Dec 2015 Ushuaia
Beagle Channel
---
15th Dec 2015 Ushuaia
Beagle Channel
---
15th Dec 2015 Ushuaia
Beagle Channel
---
15th Dec 2015 Ushuaia
Beagle Channel
---
15th Dec 2015 Ushuaia
Beagle Channel
---
15th Dec 2015 Ushuaia
Beagle Channel
---
15th Dec 2015 Ushuaia
Beagle Channel
---
15th Dec 2015 Ushuaia
Beagle Channel
---
15th Dec 2015 Ushuaia
Beagle Channel
Diary Movies
---