My many short trips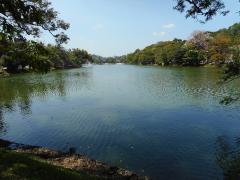 22nd Feb 2017 - 24th Feb 2017 - Sri Lanka
Kandy, Nuwara Eliya
Responsible for more than one million jobs (that's 5% of the entire population), the tea industry is incredibly important to Sri Lanka. The island itself is the fourth largest tea producing nation in the world, although tea was only begun to be grown when coffee failed, with an annual value of over $1.5bn. The drink is the second most popular in the world, after water, and more tea is consumed daily than every other drink put together! So, when in Sri Lanka, you have to drink tea even if you don't like it. Actually you don't, but when you arrive at a guesthouse and they automatically give you a cup of black tea, it's rude to say no. One of the best places for tea is up in the hills, an area where the Brits came and very much left their mark (and their tea).
The entry point to Hill Country is through Sri Lanka's second city, Kandy. Despite sounding sweet, it's basically just a big city with a lake in the middle. I arrived there off a direct bus from Dambulla, found myself a guesthouse, then went out to explore. By explore, read walk around the lake. On one side is the Temple of the Tooth which is home to one of Buddha's teeth, although you're not actually allowed to see the tooth. The lake is artificial, takes about 30 mins to walk all the way round, and is ringed by a main road the whole way meaning it's quite noisy. At the western end is the centre of town with shops, restaurants, bus station and train station.
The train station was my stop the next day. After taking just buses so far, I was to hop on a train that promised me views of tea plantations and rolling countryside. I arrived at the station slightly perturbed by the length of queue to buy a ticket. As I hadn't known my exact dates, I hadn't pre-booked a ticket. This meant travelling in the unreserved class where seats were on a first come first served basis. On this train, there were no seats available and once we had all squeezed on, there was barely any standing room left. It was a bit like my daily commute. The windows were wide open but were too low for a standing person to get a good view. So for 4 hours, I rode the rails through the hills, squashed in like a sardine, before arriving at Nanu Oya, the station of use for Nuwara Eliya.
Nuwara Eliya is also known as Little England. It was the preferred hill station for the colonising Brits to escape to in the summer heat. And due to the altitude and cooler climate, quickly became a hot spot for growing tea. Whilst the post office does have a rather British feel to it and you can find red letter boxes dotted about town, generally the town bares very little resemblance to England. The centre of town contains a large park, Victoria Park, whilst on the edge of town there is a racecourse and a lake. I passed most of my first afternoon sat in Victoria Park being very well entertained by local school children. They would walk past in large groups and eventually one would work up the courage to say "hello". Once you'd said hello back, it was like the floodgates opened and suddenly they all had the courage to say hello and they all wanted a personal hello back. Then it moved on to "how are you", "where you from", "how old are you" and so forth. Eventually, they would decide to leave, or the teachers would make them leave, and they would all say goodbye. Then one would want a high five and suddenly they all wanted a high five. This went on and on with lots of different groups of school children. At one point, I had an entire class of some 60 children, plus their teachers, surrounding me asking questions and generally just staring at me. After a couple of hours, I managed to escape and headed down to the lake via a scout jamboree in the neighbouring field.
The next morning, I decided to do a bit of hiking. There were two hikes listed in my guidebook, both climbing the nearby hills. The first hike was up Signal Tree Hill which involved walking round the race course then taking a right hand road and heading upwards past numerous guesthouses. Suddenly, the path finished at a hotel, which didn't seem right, so I went back down a little and asked someone who said yes, I could go to the top of the hill. So, I went back up but couldn't see any path beyond the hotel. Went back down again, found the same lady, who then pointed out an obscure track around the side of the hotel, which would then climb through the tea plantations and woods. More than once, I thought I must be on the wrong path as it was so overgrown but I kept on going and eventually came out on the top of the hill. A little way further round, next to a communications tower, I found a viewpoint from which there were spectacular vistas over the town, the lake, the racecourse and the hills on the other side of town. I had passed no one on the way up and given the state of the path, I doubt many people ever go to the top, but it meant that it was so peaceful – just me and the birds.
After a while I had to head back down to town from where I decided to do my second hike, up Pidurutalagala, the tallest mountain in Sri Lanka. I followed the path but again came to a stop when it ran out, this time at a building site. This time, however, I was told I could not go any further so I had to return to town from where I went walking round some of the nearby streets admiring the old colonial buildings and the golf courses. As I got back into town, I realised that I had forgotten to put on any sun cream that morning which meant I was quite badly burnt.
Diary Photos
---
---
---
---
22nd Feb 2017 Kandy
Temple of the Tooth
---
---
---
---
---
---
---
---
23rd Feb 2017 Kandy Station
Timetable
---
23rd Feb 2017 Kandy Station
---
23rd Feb 2017 Riding the rails
---
23rd Feb 2017 Riding the rails
---
23rd Feb 2017 Nuwara Eliya
Post office
---
23rd Feb 2017 Nuwara Eliya
---
23rd Feb 2017 Nuwara Eliya
Victoria Park
---
23rd Feb 2017 Nuwara Eliya
Victoria Park
---
23rd Feb 2017 Nuwara Eliya
Victoria Park
---
23rd Feb 2017 Nuwara Eliya
Victoria Park
---
23rd Feb 2017 Nuwara Eliya
Victoria Park
---
23rd Feb 2017 Nuwara Eliya
Victoria Park
---
23rd Feb 2017 Nuwara Eliya
---
23rd Feb 2017 Nuwara Eliya
---
23rd Feb 2017 Nuwara Eliya
---
24th Feb 2017 Nuwara Eliya
---
24th Feb 2017 Nuwara Eliya
---
24th Feb 2017 Nuwara Eliya
View from Signal Tree Hill
---
24th Feb 2017 Nuwara Eliya
View from Signal Tree Hill
---
24th Feb 2017 Nuwara Eliya
View from Signal Tree Hill
---
24th Feb 2017 Nuwara Eliya
View from Signal Tree Hill
---
24th Feb 2017 Nuwara Eliya
View from Signal Tree Hill
---
24th Feb 2017 Nuwara Eliya
View from Signal Tree Hill
---
24th Feb 2017 Nuwara Eliya
View from Signal Tree Hill
---
24th Feb 2017 Nuwara Eliya
View from Signal Tree Hill
---
24th Feb 2017 Nuwara Eliya
---
24th Feb 2017 Nuwara Eliya
---
24th Feb 2017 Nuwara Eliya
Harveting carrots
---
24th Feb 2017 Nuwara Eliya
---
24th Feb 2017 Nuwara Eliya
Diary Movies
---