My many short trips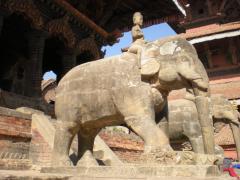 7th Jan 2010 - 10th Jan 2010 - Nepal




Kathmandu



Next day and it was back to dodgy weather as we were greeted by some serious dew and mist. That morning we went off bird watching which we didn¬ít think would be very successful because of the weather. However, in the hour we were out we did manage to see bushchat, shrike, jungle babbler, oriole, minor and a kingfisher with a fish in its mouth. Back at the lodge and it was time to head back to the bus station to head back to Kathmandu. It meant that we had to 11 people in the jeep to the bus station. The jeep was only fitted out for about 8, but we crammed 8 in the back, 2 in the front and one guy hanging off the side as we sped along the road. Only in Asia!! The bus journey was fairly uneventful ¬Ė 7 and a half hours ¬Ė not too bouncy and we only got stuck in one traffic jam but that did result in the bus driver turning off the engine for quite a prolonged period. Back in Kathmandu, it was as we left it complete with 6.00 blackout and crazy drivers.

Next day we thought we might finally manage a hot shower ¬Ė Melissa went in first and tells me yes, we have hot water. But, by the time I got in there she had used up all the hot water and so I had another cold shower. With just 2 days left we thought it was time to head out into the Kathmandu valley and see the sights. Today¬ís stop was Patan, where there was another Durbar Square. This was the old town of Nepal and was again full of temples and from a rooftop cafe overlooking the square it was a great view. In the afternoon we spent some time shopping in Thamel before deciding to spend the evening being a little bit cultural. We went to a Newari restaurant that served traditional food and put on an entertainment show with traditional dancing. Starter was popcorn, quite a popular starter over here, potatoes and soup. Main course was basically dal bhat but quite a fancy one, then desert was a really delicious yoghurt. Since it was a set menu we decided to chance it and ask for more popcorn and desert and we got exactly that but in bigger supply. The dancing was a bit odd but it was nice to actually do something a little bit cultural.

On our final full day we still didn't get a lay in but we did get breakfast on the 12th floor of a restaurant with views out over the whole of Thamel. I did however get a hot shower which was probably the best shower I've ever had! We then finished off our shopping before treating ourselves to an ayurvedic massage. A full 90 mins for just £10, not a bad bit of bartering when the advertised price was £12 for one hour. In the afternoon, we went out to Pashupatinath but it would have cost us far too much to get in especially when we wouldn't have been allowed in to many of the temples as they are not open to non Hindus. Instead, we walked from here to Bouddha (Bodhnath) which was a Tibetan stupa. We got there just before sunset which was great because it was the time when the whole community comes out and starts walking around the stupa. It was a cross between a religious and a social event. Talking to the taxi driver on the way back and we found out that there was due to be another strike tomorrow which would mean problems getting to the airport.

Turns out that the Government bus was running again so we made it to the airport 90 mins before our flight. Or so we thought. Turns out we both had the time wrong for the flight and it was actually 30 mins earlier than we thought. We still had plenty of time despite everyone trying telling us to hurry and despite not being able to find an English language immigration form for departures. When we did leave we got some amazing views of the mountains. When we arrived we were on the wrong side of the plane but upon leaving we were the only people in the back row and the cabin crew let us switch sides as we saw fit even with the seatbelt sign on. We had just 40 mins to make the change in Doha which we made fairly comfortably and before we realised it we were back landing at Heathrow and the holiday was over.



Diary Photos
8th Jan 2010 Kathmandu - Patan
---
8th Jan 2010 Kathmandu - Patan
---
8th Jan 2010 Kathmandu - Patan
---
8th Jan 2010 Kathmandu - Patan
---
8th Jan 2010 Kathmandu - Patan
---
8th Jan 2010 Kathmandu - Patan
---
8th Jan 2010 Kathmandu - Patan
---
8th Jan 2010 Kathmandu - Patan
---
8th Jan 2010 Kathmandu
Cultural Dinner
---
8th Jan 2010 Kathmandu
Lentil Soup
---
---
---
---
9th Jan 2010 Kathmandu - Bouddha
---
9th Jan 2010 Kathmandu - Bouddha
---
10th Jan 2010 Flying out of Nepal
---
10th Jan 2010 Flying out of Nepal
---