Travelling Harfields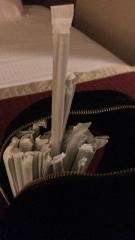 3rd Oct 2017
2. Omaha Magical Society- Only 8 pairs of shoes
Dear Blog
5 hours driving in the car with my husband is always a delight. The following activities ensue
Chatting about shows
Chatting about family, the 'children', magic, politics, religion, finance, speed limit…..
And then back to chatting about shows
Listening to books, podcasts and the same selection of 10 CD's we have had since England
Sleeping – mainly me
Social media updates -mainly me
FaceTime everyone who has an iphone so we can see them and show them the surroundings (please let us know your number, it gets boring on the road)
And then we arrive at our destination – this time the Omaha Magical Society. Established in 1921. Met by the lovely Jeff Quinn who was the 100th president of SAM. A club who cares about its members, has many a giggle, with working pros, hobbyists and the like – and a few young fellows working on show collaboration. PLUS a late night trip to IHOP for a Nutella crepe made for a delightful night.
P.s Blogg – I guess you are wondering about the picture. I have a little unfounded, unresearched issue with straws – why do we need them, I'm sure I read they kill turtles, why cover the outside when it's the inside of the straw that we use – stuff like that. So SOMEONE thought it would be funny to fill my handbag….. bloody magic folk!
Diary Photos
3rd Oct 2017 Omaha Magical Socirty - and straws...
Magicians always like to play a gag or two!
---