Travelling Harfields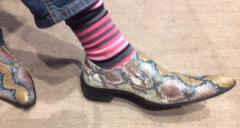 8th Oct 2017
4. Only 6 pairs of shoes - A Brit of Magic
Dear Blog
Wow the last few days have been incredible..
- Created 'A Brit of Magic' facebook I hope people like it. 😊
- We performed TOGETHER new routines based on classics of magic, Shakespeare and I even did a little vent… ok ok those who know about ventriloquism know I could never do it justice, but it made me laugh
- Keith and I both wore amazing shoes… this could be a running gag
- SO MANY faithful OLD friends came to see us. One I haven't seen since I was 8, I haven't changed obviously
- World famous magicians, lovely couple and uber creatives Carol Massie and Joe Givan run an incredible theatre here in Castle Rock Co – Theatre of Dreams. AND they didn't chuck us out even after the first night.
- I wouldn't be British if I didn't mention the weather which has been jolly hot and sunny even at 9000 ft but a snow storm is coming in. We hope to get out of Denver before it hits.
Final note dear blog – I'm humbled to perform with my hubby, proud to know so many folk in this wonderful world of Magi and to quote a great lady – I love you all
Diary Photos
8th Oct 2017 These are his...
A running gag....
---
8th Oct 2017 These are mine...
A pair of show shoes
---
8th Oct 2017 Keith Fields doing his thing!
A true Brit of Magic
---
8th Oct 2017 Look who we got on stage...
Julie Beck on stage
---
8th Oct 2017 Can you spot Lady Sarah?
After the Vent!!!
---
8th Oct 2017 The amazing Joe Givan
Garden of the Gods with that God - Joe Givan
---
8th Oct 2017 Not my best side...
Keith Fields and Lady Sarah
---
---
8th Oct 2017 Andy Cuz - known him since I was 8
Worlds apart....
---
8th Oct 2017 Old friends - well one of us isn't too old
No Description
---
8th Oct 2017 The clean up after the night before
Its not all lights and show
---