Travelling Harfields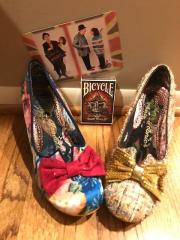 27th Oct 2017
2nd and 3rd pair of shoes - Magic Castle - October 2017
Dear Blog
2 pairs in one blog post!
Here we are at the Magic Castle in Hollywood performing 3 shows a night, with various costume changes, change of shoes (here is the tentative link to the shoe title) and performing with the amazing Nick Diffatte.
And what a giggle it has been, meeting many new folk, performers and others, routines that change at a moment's notice, sound and lighting cue changes, new lines added and more.
There is so much to write about when performing with Keith Fields. 27 years of marriage, having known each other for over 34 years, life for us, in that time has taken many twists and turns. Some we created and some we have no idea how they happen.
Now we have chosen yet another new path, some would question what & why another change – the change of working together.
Actually we have worked together on his career and my business all of those 27 years, now we have chosen to perform together. You need to hear Keith's view on that – its been both an obvious and a truly outrageous decision.
Why change a working system? Why create a double act now in your career,? Why reinvent the wheel? Why go through the process of creating something that may not work? Why teach an old dog new tricks (guess which is the old dog!)…. That's it... I can't think of many more adages. And as I say, you will have to ask Keith the answer to all these questions.
For me, its very odd to recreate who I am, just when I have got to that state in my life when I
know myself. I've been on the planet for many a year now – I am of #eccentributmature years you know. I think I rather like the challenge of 'what else can I achieve'. But I guess like many women of a certain age, we wonder what else can I achieve. What else do I want to achieve?
Well that's it, the month's tour is nearly over and with over 7000 miles on the clock I'm ready to head for the hills and back to Michigan. Just one more stop to make.
Diary Photos
27th Oct 2017 2 pairs of shoes in one blog post
The Magic Castle, Hollywood, California
---