Travelling Harfields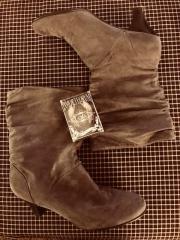 29th Oct 2017
The Last Pair of Shoes - October 2017
Dear Blog
We are at the end and so here is the last pair of shoes that I took on this 4 week tour that has taken us from Michigan, via Omaha NE; Castle Rock, Frisco and Denver CO; on to Sacramento, San Francisco, Martinez, Lake Tahoe and Hollywood CA; ending in Las Vegas NE before a 3 day drive back to Michigan.
From elevations of sealever to 11,900 ft; temperatures of 32 degrees f to 101 degrees - bloody hot in CA.
Such an amazing country, so much to see.

The last stop was Las Vegas to catch up with a truly funny bloke, phenomenal performer and a great business man, excellent insights into magic and now our mate! I'll just leave you with a tiny tiny insight and say dont forget to buy the coffee #zombie-java.com
Diary Photos
29th Oct 2017 Last pair of shoes
Thats the end of the tour shoes! - October 2017
---
---
29th Oct 2017 #zombie-java
---