Travelling Harfields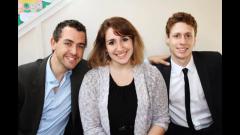 14th Nov 2017
A front-row seat to history - Washington DC - November 2017
Dear Interested Reader,
LOOK AT THIS BLOG – I have been wittering on www.GetJealous.com/harfield since 2009 some would say I've been wittering on for longer, but we don't talk to those folk!
It has been a veritable journey of discovery in these my #eccentricbutmature years in the USA. In fact, I heard a quote today at the Pulitzer exhibition at the Newseum in DC and it was
You have a front-row seat to history
And that really resonated with me – oh I'm pulling out all the big words today – admittedly some of that history only applies to our little lives.
But let me give you a few examples of the history I've had the front-row seat to. (Remember this blog is mainly a diary for my benefit, so I'm loving these insights)
1. Technology – since I've been in the USA, social media has exploded – notice my little link here instagram.com/abritofmagic/
Don't get me started on websites www.KeithFields.com
2. Our teens are no longer teens – both Oliver and Felicity are in their TWENTIES
3. We are Grandparents – 3 times by Christmas. Did you get the clever way I dropped in that Mattu and Leanne are having number 3.
4. Politics. Just let's leave it at that.
5. When I started this blog in 2009 we had 4 parents between Keith and I, now we have 1. There's a downer.
Now I haven't had a front seat at all of those – well certainly not 3 and 4. But I have loved seeing life evolve, enjoyed the journey, well most of it, just Seeing how life, love, friends and the world has developed and evolved.
So the point of this update is to tell you how another aspect of our world has evolved and we are sitting on the front-row seat as history is made…
I give you the
AIR B & B
Accommodation is a revelation, mastery and headache to me on any of our trips. On this 3 week trip. With shows in North Carolina, where we stayed in a hotel, then on to Philadelphia where we stayed in a friends flat, in Delaware we will stay in accommodation supplied by the theatre we are performing in, by the time I get to Boston for Thanksgiving we will be straying with our relatives aka Keith's brother and family who once lived with us in Michigan now have moved to Boston…. That's another story.
HOWEVER right now we have a few days off and we are in Washington DC to see the amazing Oliver, who works 2 blocks from The White House. Very exciting. AND (I am getting to the point) we have rented an Air B & B. A one bed flat/apartment, with kitchen, lounge, off street parking, all the amenities to have a cozy night in so we don't have to go to restaurants, space to unpack and leave stuff all over the place. PLUS NETFLIX all for less than we would pay for a hotel on the road. Now I know Air B&B has been around awhile, and yes you can find bad press on these places, but for us, it's a bolt hold. Somewhere to hang out with our lad, not be pressurized to move on or buy more alcohol to keep the landlord happy. A great shift in accommodation on the road.
That's all – nothing exciting really its just we have a front-row seat to history and I thought I would share it with you.
LYL
Diary Photos
14th Nov 2017 Love these 3 - they are making history
No Description
---